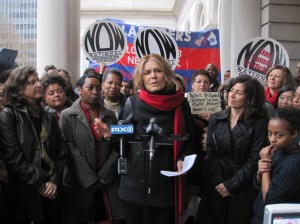 Feminist icon Gloria Steinem and other prominent women leaders and council members gathered on the steps of City Hall today to endorse Councilwoman Melissa Mark-Viverito for city council speaker.
With just under three weeks to go until the City Council's 51 incoming members cast their ballots, Ms. Mark Viverito, who has already claimed victory in the race, is trying to build momentum for her candidacy and shut out her chief rival, Dan Garodnick, who still maintains he has time to change members' minds.
"Melissa truly is the best-qualified candidate, the person who is most able to bring our city together as a community, which is what we so need," declared Ms. Steinem. She would be, she added, "a speaker who will make many people who have felt they have not had a voice have a voice."
Ms. Mark-Viverito, who was born in Puerto Rico, would become the city's first minority council speaker—a fact that was mentioned during the press conference again and again. "It's an exciting moment for us. We have the opportunity to elect the first woman of color to be speaker of the City Council. But it's not just any woman," said Councilwoman Margaret Chin, who praised Ms. Mark-Viverito's commitment to affordability and inequality.
"This is a woman who has stood with the women of this city," echoed Sonia Ossorio, the president of the city's branch of the National Organization for Women, who hailed Ms. Mark-Viverito as "a Latina, a woman with incredible experience, a tough negotiator, someone who has worked for affordable housing, who has worked for the workers of our city. This is someone who is an ally to the women and girls of New York City."
The group also dismissed criticism raised by some council members who oppose Ms. Mark-Viverito that she is difficult to get along with and aloof—attacks they dismissed as blatant sexism that would never be used against a man.
"Well, it is a typical, typical criticism of women, sexist criticism. We do not hear that about men," said Zenaida Mendez, president of NOW-NYS. "Every time we have a strong leader, that's what happens."
"I just to want to say, from the bottom of my heart, when they call me difficult, I say, 'Thank you,'" Ms. Steinem echoed.
In response, Mr. Garodnick's team sent out a statement from four women backing his candidacy—Elizabeth Crowley, Karen Koslowitz, Annabel Palma and Maria del Carmen Arroyo—and doubled-down on his message that the speaker should be independent of the mayor.
Mayor-elect Bill de Blasio played a key role in Ms. Mark-Viverito's candidacy, helping to broker a deal with the Brooklyn county organization and calling individual council members to inform them he wanted to see her win.
"We feel very strongly that what is best for New York City women is a City Council that is strong and independent of the mayor," they said in a statement. "The New York City Council must chart its own course to address the issues of women's health, poverty rates among single mothers and senior women, and efforts to end discrimination and the continuing wage gap.  A speaker who is handpicked by the mayor in a back room deal will not be able to do that."