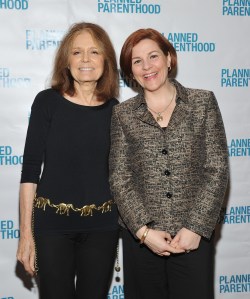 During the Democratic primary, feminist icon Gloria Steinem was one of failed mayoral candidate Christine Quinn's biggest fans. But as Ms. Quinn's chief rival, Bill de Blasio, prepares to take office, Ms. Steinem says she's thrilled to welcome the incoming mayor following an election she said reminded her a lot of the 2008 presidential primary won by Barack Obama.
"It was a little bit like a city version of 2008," Ms. Steinem told Politicker in an interview after a rally outside City Hall this week boosting Melissa Mark-Viverito's speaker bid.
Ms. Steinem said she saw strong parallels between Ms. Quinn, who would have been the city's first openly gay and woman mayor, and Hillary Clinton, who would have been the nation's first woman president–until they both lost their bids.
"You know, there were two candidates for whom I always said I would be happy to work, Clinton or Obama. Clinton had more experience; Chris had more experience. But they're both equally devoted to the issues," said Ms. Steinem, who recorded a video boosting Ms. Quinn's candidacy, appeared by her side at campaign events and sent out get-out-the-vote letters on her behalf. "We had an embarrassment of riches," she said of the field.
As for the parallels between Ms. Quinn and Ms. Clinton: "I mean they're very different people, but [Ms. Quinn] was viewed as the past because she had more experience. And you know, it's an irony, but that's what happened. And so she was viewed as part of the Bloomberg administration. And [Mr. de Blasio] was, as Obama was, more of a blank slate. So even though their positions were very similar, people could project their hopes onto de Blasio or onto Obama."
Still, she added, "They are very good people, you know. So me, personally, I always said–and I think everybody I know always said–that we would be overjoyed to work for either one."
Politicker also asked Ms. Steinem about Mr. de Blasio's incoming administration, which his team has been quick to point out now includes more women appointments than men. (Comptroller-elect Scott Stringer's transition has been touting the same thing.) But Ms. Steinem said that the numbers aren't what she's focused on.
"It's important that the female half of the population be considered for talent, but it's not biology. It's not about getting a job for one woman necessarily. It's about supporting women who stand for other women," she said. "I'm saying what we all know, but I think it's important to say because people still get mixed up."