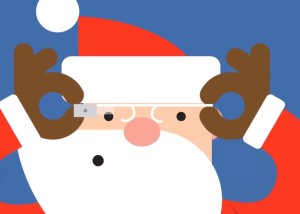 Since strapping Santa to an Amazon drone would have ruined the corporate synergy, Google did the next best thing to turning Santa into an early adopter: They made him into a Glasshole. 
Google's annual Santa Tracker shows jolly St. Nick getting ready for Christmas by packing his presents, prepping the reindeer and donning one of the $1,500 Internet-enabled face computers. God only knows what he's going to be using it for, since porn was banned and having him "wink" to take pictures of people asleep is only going to add to his creepiness factor.
We wouldn't be surprised if the company hooked the North Pole up with Google Fiber, too.
(H/T Glass Almanac)