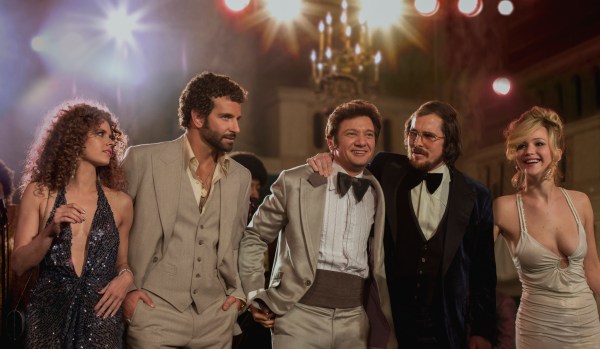 We're all con artists, see. Everyone is conning someone else in order to survive. That's the cockeyed theme of American Hustle, a crazy, classy mess of a movie that shifts tempos every 10 minutes, leaving you breathless. Marveling at a quintet of throbbing star performances and trying to keep up with the elaborate plot twists (inspired by the real-life Abscam political scandal) that come at you in sections will make you feel like your attention span is on speed dial. You won't doze in this one.
I'm not a devoted fan of director David O. Russell. I hated Three Kings and consider I Heart Huckabees one of the worst movies ever made. Things improved with The Fighter and last year's Silver Linings Playbook, but American Hustle, which he also wrote (with Eric Warren Singer), is flawed but so clever you can't ignore its obvious entertainment value.
The fun starts early with camera-ready hunk Christian Bale, unbelievably miscast but unforgettable as a fat, balding and decidedly decimated, out-of-shape New Jersey scam artist named Irving Rosenfeld, standing in front of a mirror pasting tufts of phony hair into a hilarious comb-over. He's an ugly flim-flam artist who started as a kid, breaking the store windows in his Bronx neighborhood to drum up customers for his father's failing glass business. Now he's immersed in a dry cleaning business as a front for money laundering. His partner in crime is girlfriend Sydney Prosser (Amy Adams), a Cosmopolitan magazine secretary whose promising bra size over-shadowed her assets at shorthand, elevating her career to stripping. Broke, fearless and addicted to self-delusion, she reinvents herself by adopting a British accent and a fake I.D. to join Irving as a sexy partner in bed and business and keep herself up to date in a never-ending assortment of wigs, cosmetics and lingerie. Together, they show a small profit devoted to the philosophy: "We're all conning ourselves in one way or another—just to get through life." The only thing that prevents them from making their partnership legal is Irving's fizzy, gum-chewing bimbo wife, Rosalyn (Jennifer Lawrence, with piles of peroxided curls on top of her pointed head).
Enter Bradley Cooper, as Richie, an FBI agent with a terrible Toni home permanent who specializes in white-collar crime. Richie busts Irving and Sydney for embezzlement, then saves them from prison by recruiting them into a new line of work: conning crooked politicians in Congress. The scheme involves a wire operator at the F.B.I., the U.S. prosecutor (Alessandro Nivola) and the mayor of Atlantic City (Jeremy Renner, wearing a pudding of hair on the top of his head that looks like Donald Trump's), who plans to rebuild the Jersey shore with building permits and new casino licenses. The F.B.I. provides the money in the name of a bogus sheik (a con man from Mexico named Paco) to nail the mayor in the act of taking a bribe. Richie is hustling the mayor, Irving and Sydney are hustling them both, and Rosalyn's dumb bottle blonde with 3-D cleavage is hustling them all without even knowing it. They finally all come face to face with a mobster from Florida who is Meyer Lansky's right-hand man (Robert DeNiro, in a guest appearance), who pulls the biggest hustle of them all, while bullets fly. So does credibility, but never mind. This is strictly for laughs, Damon Runyon-style.
American Hustle is an essay on the brilliance of corruption. The wire taps, bribes, intimidations, double-crosses, traps and internecine cons finally get too confusing to stay up with, but everyone is brimming with duplicity, and they all have hairdos worthy of lawsuits. But it's a goofy, fascinating look at people who live on larceny, with a ridiculous sense of fashion and felony, featuring a fabulous soundtrack that opens with Duke Ellington's swinging big band recording of "Jeep's Blues" and runs the gamut from Oscar Peterson, Ella Fitzgerald and Thelonious Monk to Debussy and Elton John. The film moves like a jam session with freewheeling solos and collaborative riffs, and a uniformly wonderful ensemble cast that walks a tightrope and keeps you guessing.
I wouldn't call American Hustle my kind of movie, but perversely, I have to admit I enjoyed it, primarily because of the twisted logic and wicked cleverness. It's a tangled mass of loosely connected extension cords constantly in need of plugging back in before they blow a fuse.
AMERICAN HUSTLE
WRITTEN BY Eric Singer and David O. Russell
DIRECTED BY David O. Russell
STARRING Christian Bale, Amy Adams and Bradley Cooper
RUNNING TIME 138 min.
RATING 3.5/4