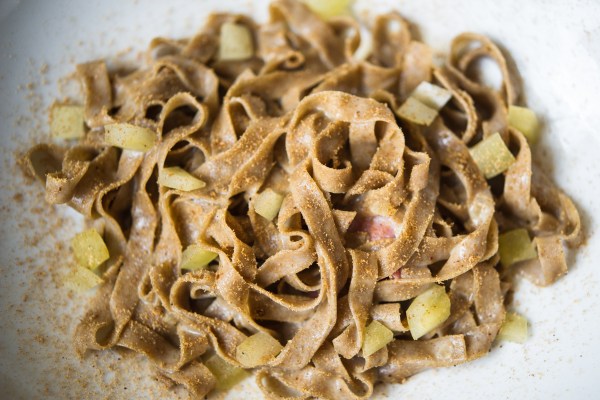 Stein's pick: One could pick nearly any dish at Alder as one of the best in the city, but it's the rye pasta with pastrami (below), which fulfills the three-prong requirement of greatness. It is satisfying to the entire man: his tongue, his mind and his heart. The pastrami that accompanies it rivals Katz's, the pasta itself is original and delicious (OMFG!), and the concept is both entirely unique and a tender-hearted tribute to the displaced Second Avenue Deli.

Ozersky responds: If the category were "most inventive modernist tribute to a neighborhood," I might go along with this, or maybe not. But there is no way this is better than any number of dishes within two blocks of it: the Maharlika chicken and waffles, for instance.

Ozersky's pick: With all due respect to the veal parmesan at Carbone and the whole baby lamb at MP Taverna, I think I was most moved by the blanquette de veau at Le Philosophe. It's not hard to make world-class meats sing, but to take a dull dish that was played out before I was born and make it compelling—respect.

Stein responds: How can a dish that was perfected hundreds of years ago, fell into disrepute and was only rescued from ignominy by the admittedly undeniable brilliance and skill of Matthew Aita be the best dish of the year? It's like a reenactment of Lady Jane Gray's beheading, a perfectly executed thing of the past.