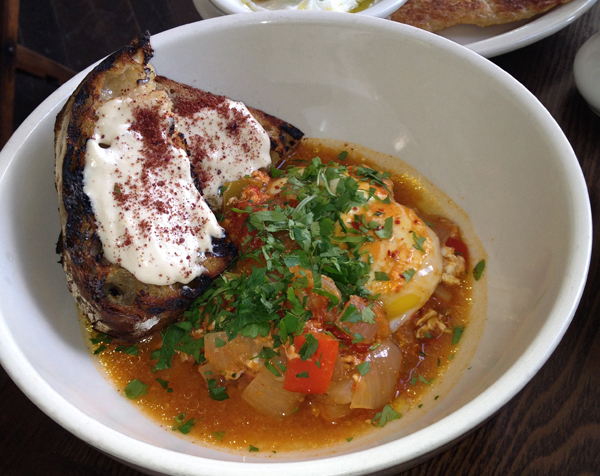 Stein's pick: Greenpoint, with a cheat down into Williamsburg to grab The Elm, is the correct answer. Besides Paul Liebrandt's kinda douchey but nonetheless brilliant restaurant, besides Luksus and Sara Kramer's Glasserie (below) and the stunning Alameda, the neighborhood is in that magic crepuscular moment of foodie ferment. A large part of why these new restaurants seem so fetching to me is that they're cheek-to-jowl with older places that cater to a different clientele, like Peter Pan Donuts and Lomzynianka. Who knows how 77 Commercial Street and the Greenpoint Landing project will affect the neighborhood (I'm gonna go with not well), but for now, it's neither monotone nor homogenous. Good for people, good for restaurants.

Ozersky responds: I believe my answer speaks for itself.

Ozersky's pick: A stunning renaissance in Crown Heights has made this up-and-coming neighborhood … just kidding. It's the West Village, this year as every other. The West Village is so bloated with great restaurants that places as good as Perry Street, Commerce, Left Bank, Market Table and so many others are forgotten as the riches pile on: Piora, Neta, Sushi Nakazawa, The Marrow.

Stein responds: I agree that the West Village is the home to some tremendous restaurants, but it's also just a small Marc Jacobs snow globe of New York. Like a snow globe, there's little air to breath. But unlike a snow globe, no one's shaking anything up.