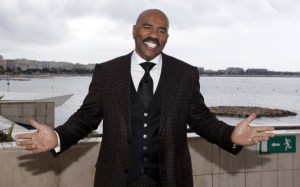 Nobody needs to buy us any holiday presents this year, because Steve Harvey is interviewing President Obama and it's going to be on TV.
According to Politico, Mr. Harvey's PR rep has announced that he of Act Like a Lady, Think Like a Man fame is journeying to the White House to conduct a one-on-one interview with the President, set to air next Friday, December 20, on Mr. Harvey's own show.
We guess that's what Mr. Harvey was referencing when he sent out this elusive tweet early this afternoon:
Apparently, the interview will focus on "family, fatherhood and [President Obama's] plans for the holidays." It all sounds delightfully mushy and heart-warming—and definitely way better than hearing Mr. Harvey mansplain the rules of dating to his female talk show guests.
"Sitting down with the President is something I've always dreamt of doing, and I am honored to have the opportunity," Mr. Harvey said in a statement. "I'm grateful to President Obama for welcoming me and I'm thrilled to share this experience with all my viewers."
Here's hoping there's ample Bo and Sunny B-roll.