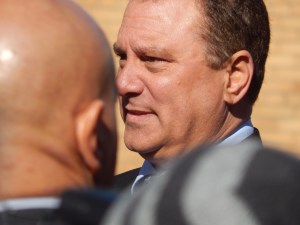 HILLSIDE – If you take a wrong turn here you end up in another county before you can turn around, in this town where cul de sacs turn into highway on-ramps.
It's the scene today of a mayoral runoff between incumbent Independent Mayor Joe Menza and Democratic Party challenger Councilwoman Angela Garretson.
Garretson hit Calvin Coolidge Elementary School ahead of the mayor with time running out on the contest, before that late afternoon push from both sides.
"His campaign has been so divisive, it's not what the people of Hillside want," said the councilwoman. "His campaign has been low and despicable and it shows that he has to run this kind of campaign because he has no vision."
Garretson objects to the mailers depicting the alleged hazards of a vote for the councilwoman, who has political backing from Newark, including U.S. Rep. Donald Payne (D-10).
The presence of Union County Freeholder Mohamed S. Jalloh today showed off Garretson's home county support as she connected with voters outside the school. "Angela and I went to college together at Syracuse," said Jalloh.
A short time later, the mayor appeared at the same school, which actually sits at the heart of Garretson's base.
Menza said he wants to chop into that, and spoke of what he believes will be his campaign's significant absentee ballot advantage.
"This is going to be a photo finish, and those absentee ballots could be the difference," said Menza, who denied an all-negative campaign.
"We ran on our accomplishments," he insisted. "We ran on zero-tax increases over the course of two years – that's hard to do in a recession.
"The negativity," he added, "was on her part."