In 1981, when the actors Peter Maloney and Kristin Griffith purchased the townhouse at 126 West 87th Street, they likely had no inkling that either they or the home would make multiple appearances in Dick Wolf's hit crime procedural Law and Order. (Its oak-paneled library and formal parlor have been particularly favored locales, according to the New York Times, and the pair has won roles in several of the show's iterations.) Nonetheless, they were drawn from the first to the property's spooky appearance, the result of years of disuse and dilapidation, and its presence on what was then a somewhat questionable block. Having perhaps effaced some of that spookiness since buying the house for $450,000 with some $2 million in updates and renovations, the couple has just sold the place for an even $7 million, according to city records.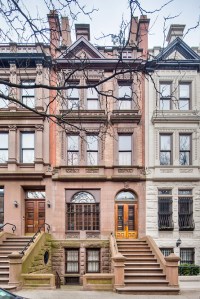 A six-bedroom, four-story landmarked property built in 1888, the townhouse has belonged up to this point to only two families. It has been delivered this time, however, in splendid condition. Sporting a full-height, semi-finished basement and a penthouse with twin terraces, the brick and brownstone edifice boasts a butler's pantry and a "sunny south facing private garden perfect for entertaining," according to the listing, which was held by Town Real Estate's Deborah Sabec. The aforementioned library offers a view of the garden, a wood-burning fireplace and built-in bookcases, which, during the actors' tenure, represented a classical counterpoint to Mr. Maloney's study, furnished with his collection of occultist curios. (This last hobby was perhaps nurtured by his 1982 turn in horror meister John Carpenter's The Thing.)
The original owner hesitated to sell the house, fearing that it might be broken up into individual apartments, but as the deed attests—listing six Griffiths and one Maloney—the building has served thus far as a multi-generational single-family home. The buyer, Olivier Cassegrain, who is a member of the founding family of the Longchamp luxury leather goods company—and a managing director at the firm—for his part, does not list a partner in the sale, but surely, he cannot intend to occupy all those bedrooms himself.
Ms. Griffith, who is perhaps best known for her role in Woody Allen's Bergman-esque drama Interiors, is due to visit screens in 2014 in a 1920s period romance titled Drawing Home. Having cleared a hefty profit on her recent sale—even if it was $1.75 million less than the initial listing price promised—she will, of course, be well-positioned to take steps toward finding her next home that are a good deal more concrete than drawing.