As snow blanketed Chelsea last Friday afternoon, a crowd gathered at Eyebeam for a panel talk capping off a two-day exhibition there, "I Have No Words: Emoji and the New Visual Vernacular," which has since been extended through Saturday, Dec. 21.
The audience sat in red folding chairs, in a room with exposed bricks that never warmed up, waiting on panelist and New York Times tech reporter Jenna Wortham, who was delayed because of the weather. She texted Lindsey Weber, the talk's moderator and associate editor at New York magazine's Vulture blog, to let her know, and Ms. Weber responded with a simple emoji: two hands emanating sun-like rays as they meet.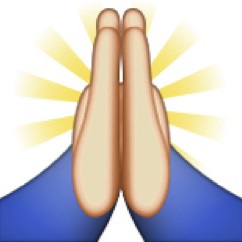 They're praying hands, the pictorial equivalent of "Godspeed"—at least that's how Ms. Wortham understood it when she later related the story to the audience. Eyebeam's communications director, Zoe Salditch, disagreed. 
"Those aren't praying hands, those are high fives," she argued. Weber's message would have been lost on her.
"Emoji is very universal," Ms. Wortham, a tall woman with thick-rimmed glasses, said, "but there's also a cultural agreement that the definitions mutate and change depending on who you're talking to and what you're talking about. It's rare that language has that fluidity and that flexibility."
Her own favorite emoji is the panko-encrusted shrimp. She sends it to one friend to say that she's in a bad, "salty" mood that requires "a couch, a fetal position, a bottle of wine and Netflix," according to the essay she wrote for the show's catalogue. Sent to another friend, it conjures Mariah Carey, since it evokes, for Ms. Wortham, the singer's golden complexion and tube-top regalia.
Emoji means "picture letter" in Japanese. In the past couple of years it has been hailed as a new kind of international language. Historically speaking, though, visual communication has been not the exception but the rule. Its tradition extends from prehistoric cave paintings and Egyptian hieroglyphs to stained glass windows and the 19th-century rebus—a Victorian picture puzzle that adorned social calling cards. 
Emoji as we know it developed in the mid-2000s when Japanese handset manufacturers began creating gifs that could be sent across devices. The Japanese have a long tradition of elaborate letter writing, and they found that images brought intimacy to the coldness of digital communication, offering visual cues lacking in the text. It became an international phenomenon in late 2011, when Apple—hoping to compete in the Japanese market—released an emoji keyboard with iOS 5, then the latest edition of its iPhone operating system. Since then, many phone carriers have developed their own sets. Apple's is still the most popular, and it is the one that appears in most of the artwork in "I Have No Words."
"Emojis are on my nails, they're on my phone, they're on my desktop wallpaper," said Ms. Salditch, who has spent the last four months helping to organize the show. "[Emoji] has resonated with a lot of artists, penetrated their collective mindset, and it's showing up in their art." Works in the show include Carla Gannis's The Garden of Emoji Delights, which recreates one of Hieronymus Bosch's panels with emoji figures; Japanese Castle, Western Castle, an eerie video by Luciel Perte and Noah Spidermen, which features Siri translating emoji into English as a hypnotic cloud of characters spiral across the screen; and Shift Key by Maya Ben-Ezer, which replaces the keys on an old typewriter with emoji symbols. (The suggestion is that the alphabet itself has become antiquated.)
Panelist Fred Benenson, a data engineer at Kickstarter, said he sees emoji—along with Tumblr, Snapchat and reaction gifs—as a backlash against the Web's text-driven culture, allowing our word-weary brains to process information emotionally. Emoji Dick, his own artwork in the show, is a crowd-sourced emoji translation of Herman Melville's 600-page classic. As might be expected, whale and wave emojis abound.
Yet Mr. Benenson cautioned against seeing emoji as just the next stop on the progressive timeline of language. Emoji Dick, he admitted, fails miserably. Though a single emoji can sometimes be more successful than a full sentence, there are many thoughts that don't have corresponding images. "There's a lot of complexity to thinking that required language, and I think that's where emoji falls short," he said. 
As it happens, emoji is itself actually a text-based language. Every 12-square-pixel image—from a tongue-wagging smile to a poop swirl—is a Unicode character, which makes panelist Ramsey Nasser's piece in the show all the more fascinating. Collaborating with Addie Wagenknecht, he created a programming language called Emojo. It's pure emoji. Left-and-right facing quarter moons serve as brackets, for instance, elevating each icon's design over its meaning. 
Arabic is Mr. Nasser's first language, and he's interested in the politics of language, especially as it relates to code. All programming is done in American English. "It's easy to think of [emojis] as technological artifacts, but they carry the cultural assumptions of the people who made them," he said. "That alienates huge portions of humanity."
On Apple's emoji keyboard, for example, there are no dark-skinned avatars—only what looks to be an Asian man, a Turk and maybe a Russian. The company only recently added same-sex couples. "We're sort of dependent on the high priests of Apple for what symbols we get to use to communicate with," Mr. Nasser said.
And emoji itself connotes a certain privilege since it's available only on (generally expensive) smart phones. When Ms. Weber asked the audience who had used emoji, everyone raised their hands—that is, everyone except for Mr. Nasser. 
"I'm a fraud," he said. "I have a dumb phone. I can't even do smiley faces." When asked to produce the device for inspection, he couldn't. He had left it at home.
"He also has a pen and paper," Mr. Benenson said, and everyone laughed.