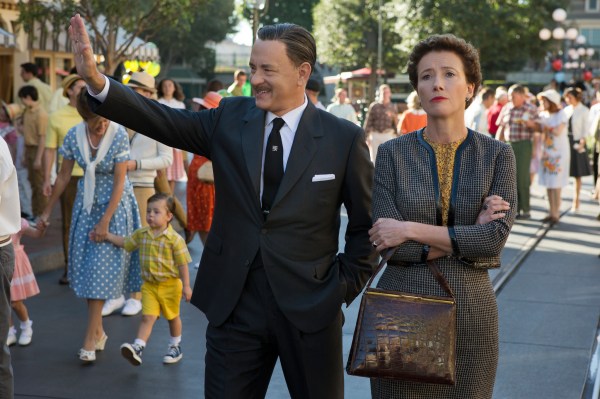 Hollywood rarely sends itself a valentine, much less a Christmas card, but Saving Mr. Banks, a mouthful of cotton candy about the persistent problems and insurmountable obstacles Walt Disney endured for 20 years trying to get Mary Poppins on the screen, is the kind of Disney entertainment the great man himself would have loved, constructed for the family market and wrapped in tinsel for the holiday season. The fact that it is entirely predictable, historically questionable and replete with the Disney philosophy that everything in life—no matter how sad or sordid—deserves a happy ending, is almost beside the point. In a time of dark, cynical, hopped-up movies about sex, violence and hopelessness, it adds some joy to a dismal year. Get your sugarplum early.
It begins in 1961, when Disney (a mustachioed Tom Hanks) finally persuades P. L. Travers (Emma Thompson), the brittle, prune-faced author of the Mary Poppins books, to travel from London to California to oversee preproduction plans for the movie without signing over the movie rights. Then it intercuts the parallel narrative of her childhood in Australia, showing a little girl in the outback in 1906, restaging incidents in her life that inspired the characters in her stories. Born Helen Goff in 1899, she escaped a rough hardscrabble life and immigrated to England in 1924, where she wrote her first book about the flying nanny in 1934 under the pen name Travers, which was her father's first name. It was her unquenchable passion for her father (a dashing but tragic Colin Farrell, in the calmest and most moving performance of his career) that forged the character of Mr. Banks, the patriarch who hires Mary Poppins to look after his children. Based on both Peter Pan and her umbrella-carrying aunt (Rachel Griffiths) who kept the family in one piece after her father succumbed to alcohol and illness, the flying nanny called Mary Poppins provided the sort of perfect G-rated literary sitcom narrative only Disney could have envisioned for the screen. There was just one titanic problem: P. L. Travers herself.
Distrustful of movies in general and suspicious of Disney in particular, Travers implacably refused to sell her work to the persistent mogul but reluctantly agreed at last to make the exploratory trip to the land of oranges and idiots. From the minute she arrived, she was nothing but trouble—selfish, caustic, exasperating and insulting to everyone who crossed her path. She was not at all amused by the fake cheerfulness at the studio or the toys and stuffed Disney animals planted in her suite at the Beverly Hills Hotel. She was even less charmed by the informality of "Uncle Walt" himself. But after 30 years of Mary Poppins books, now in a sales decline, she at least decided to investigate the possibility of a film version, with myriad restrictions: "I won't have her turned into one of your silly cartoons!" Her demands included no singing, no music, no animation and total script approval. The biggest challenge was to convince her it would indeed make a wonderful musical. Rejecting every word in the proposed script, turning every studio department into turmoil, she swept through the Disney lot Mickey Mouse built like a mean-spirited rat catcher. She abhorred sentiment, whimsy and show tunes. She didn't mind Julie Andrews because she was British but refused to approve Dick Van Dyke. Under no circumstances would she allow the use of the color red. She terrorized the Sherman brothers, who wrote the score. One of the funniest moments is the look on Emma Thompson's stern face when they audition their first song. It's a frown of pure arsenic. If she couldn't tolerate "Chim-Chim-Cheree," imagine how the songwriters dreaded her inevitable reaction to "Supercalifragilisticexpialidocious." No wonder it took two decades to acquire the rights to Mary Poppins and then it almost never got made. This is the crowd-pleasing, behind-the-camera saga of that 1964 classic that catalogues, detail by detail, why.
The screenplay, by Kelly Marcel and Sue Smith, seamlessly captures two different eras with overlapping story lines that never intrude or confuse. Directed by John Lee Hancock with imagination and a flair for period details, the 1961 Hollywood scenes on the bustling Disney lot in Burbank have a delicious retro feel that recreates the fashions, foibles and feelings of period movies. (Throw them an idea, and the Sherman brothers knock out Oscar-winning songs in less time than it takes to phone Chasen's for take-out chili.)  The Australian flashbacks contrast the dark shadow of death inside P. L. Travers' crude, claustrophobic home with the blinding sunshine and sand of the pioneering outdoors. Compare the sunny optimism of the talking Pinocchios and wisecracking Plutos Disney sold to children with the despair of a real child whose father was always getting fired from his banking jobs, always running out of money and drinking himself to death, like the charming but irresponsible father in A Tree Grows in Brooklyn, and you see clearly why Travers wanted to save the tarnished reputation of her own cherished father, imagined in her likeable but troubled Mr. Banks character, from ridicule. The acting is top drawer, although I could do without Tom Hanks' big speech about the power of storytelling in movies with fairy-tale realism. Good as he is, it's Ms. Thompson's movie, but even her calm and sturdy grip on the role fails to make Travers much more than a pickle-faced bully. Maybe she knew too much about the facts. There were times during the film when I got so tired of all the Dumbos and Bambis that I sided with her myself. But I surrendered to the film's overall sweetness anyway and ended up smiling. It would be unconstitutional not to.
What I don't buy is the movie's fictionalized premise that what transformed P. L. Travers from cold marble and awakened her dormant heart was her dubious friendship with her limousine driver (Paul Giamatti) after he tells her about how much Mary Poppins meant to his disabled daughter. And we are asked to believe she changed her mind, her personality and her firm grip on the Mary Poppins film rights—as well as the financial future of Walt Disney Productions—after taking her first ride on a merry-go-round at Disneyland. It's the kind of historical altercation that could only be made by the folks at Disney in honor of their founding father. The movie's requisite happy ending, with the author attending the Hollywood premiere bedecked in smiles, is anything but accurate. In actual fact, as many Disney biographies have made clear, she hated the Hollywood experience, Disney and the finished movie, especially the dancing penguins. Before she died, when Cameron MacIntosh sought her approval for the Broadway stage production of Mary Poppins, her one stipulation was that no Americans be involved in any way. On the 50th anniversary of Mary Poppins, I'm still wondering what P. L. Travers thought of "Supercalifragilisticexpialidocious."
SAVING MR. BANKS
WRITTEN BY Kelly Marcel and Sue Smith
DIRECTED BY John Lee Hancock
STARRING Emma Thompson, Tom Hanks and Annie Rose Buckley
RUNNING TIME 125 min.
RATING 3/4