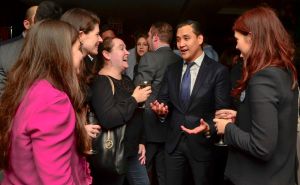 NEW YORK CITY – At a fundraising event inside of Manhattan's Time Hotel on Friday night, Congressional candidate Roy Cho of Hackensack sent a message back to New Jersey: his time is now.
"The great thing about this country is that if you want something, you have to go out there and you have to participate. You have to engage," said Cho, 32, the sole declared Democratic challenger against Republican incumbent U.S. Rep. Scott Garrett of the Fifth Congressional District. The district includes includes most of Warren and Sussex counties, a few Passaic municipalities, and parts of Bergen County. "Think about how much the world would have lost out on if young, entrepreneurial and risk-taking people weren't willing to take a big, calculated risk and take a chance on something," Cho added. "We need to be able to encourage that same type of risk-taking behavior in the public sector, because that's our responsibility as American citizens."
Some political observers would say that Cho is clearly taking a risk by running against Garrett, 54, a six-term incumbent first elected in 2002 in a district where voters haven't elected a Democrat since 1931. According to the October 2013 Federal Election Commission report, Garrett has more than $2.6 million on hand for his re-election fight.
This considerable campaign war chest has led another potential Democratic challenger to think twice about taking on Garrett. After surviving what he called Gov. Chris Christie's "carpetbombing" in November, state Sen. Bob Gordon (D-38) has been "looking at" running against Garrett, yet expressed a degree of reluctance about the potential fight.
"Scott Garrett has a tremendous amount of money available, and I'm not sure I want to spend the next year raising that kind of money," Gordon told PolitickerNJ.com last month.
But Cho feels he can compete with a compelling back story, highlighted by two touchstones of the American Dream: immigration and education.
Raised in New Jersey by Korean immigrants, Cho studied hard, graduating from Brown and Georgetown Law. Along the way, he worked as an aide to Gov. James McGreevey and for Jamie Fox, then-deputy executive director of the Port Authority of New York and New Jersey, and for former U.S. Sen. Byron Dorgan, a Democrat from North Dakota. Cho is now a mergers and acquisitions attorney, working as an associate at the New York office of Kirkland & Ellis.
It is because of the network Cho has made through his educational and professional contacts that he believes he can ultimately compete in another way with Garrett: fundraising.
According to campaign sources, Cho has raised $180,000 to challenge Garrett, and expects to have well over $200,000 by the end of the quarter following a series of fundraising events this month. Among the boldface names to donate to Cho are Fox, Dorgan and Orin Kramer. Kramer, a hedge fund manager and New Jersey native, was a top fundraiser for President Barack Obama during the 2012 presidential campaign, bundling at least $500,000 in donations for the President. He also served as chairman of the New Jersey State Investment Council from 2003 to 2011.
The campaign also has almost 500 contributors who have donated under $200 to Cho, including young professionals who hope to see him succeed.
"I could not only see him running for Congress – Roy told me he would do it the first day I met him," said Jonathan Amoona, who went to law school with Cho, at the Dec. 6 fundraiser. "Roy is the hardest worker you will ever meet, and he can relate to all different kinds of people, no matter where they are in their life. Plus, he has a passion about politics. Those three things combined will lead to him being a Congressman."
"I think we need more young people in politics, and we're only getting started," said Kelly Beverage, 28, a financial analyst. "Roy Cho supports the values of 20-year-olds and 30-year-olds who want to get involved."
Justin Oh, 22, from Englewood Cliffs, is, like Cho, the son of Korean immigrants. He believes Korean-Americans, a rising demographic group in Bergen County, will rally around Cho's candidacy in the Fifth Congressional District.
"The Korean community is very tight-knit, and we all believe in the whole American Dream concept. We made something out of nothing," Oh said. "I think a lot of people can relate to Roy. And I think of lot of Korean-Americans who can understand his family's story will support him and put up the money for him to succeed."
It remains to be seen whether Cho can take out Garrett, or even if he gets the nod to take him on. But no matter who goes up again Garrett, Cho believes he has got to go based on his arch-conservative voting record.
"Scott Garrett is out of touch with the district. After the 2010 redistricting, I think the Fifth is very different, and very competitive," Cho told PolitickerNJ.com. "Scott Garrett was the only member of the New Jersey congressional delegation who voted against reopening the government after the October shutdown. He voted against the reauthorization of both the Violence Against Women Act and the Voting Rights Act. He was initially against aid for Hurricane Sandy. This is certainly somebody who is putting ideology ahead of the needs and interests of his constituency.
"I'm young, and I'm hungry. I can help show that there can be meaningful cooperation between private and public sector actors," Cho added before greeting more of his supporters. "People are ready for change, and I've raised a lot more money than other people have before this early in the race. But you have to really have a belief that goes beyond what the numbers say, and as Americans, we have a responsibility to hold people accountable for the positions that they are taking. Scott Garrett has failed the test of public service. This is a real race, and I'm ready to win."