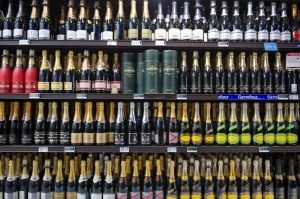 The city's Independent Budget Office has some ideas for incoming Mayor-elect Bill de Blasio to boost revenue and save cash as he prepares to take the reins of City Hall.
As part of its annual wish list, the group has suggested boosting the city's tax rate on alcohol–and adding new tax on wine–to rake in nearly $50 million in extra revenue a year.
According to the IBO, the city's tax rate of 12 cents-per-gallon on beer and a dollar-per-gallon on liquor has remained steady since 1980. Due to inflation, revenue is now down to about a third of what it was that year, they said, suggesting upping the tax to 34 cents and $2.80-per-gallon, respectively, and adding a new tax of 30 cents-per-gallon on wine. The moves, which would require approval in Albany, would net the city an added $49 million in revenue a year.
The IBO's list includes dozens of ideas, including controversial proposals it has raised in the past like a "pay-as-you-throw" program charging residents to throw out trash, forcing city employees and retirees to contribute to their health insurance premiums, creating a new tax on sugar-sweetened beverages and upping the sales tax on cosmetic surgery.
Another new idea put forward by the group: preventing city workers from taking paid holidays until they've logged 90 days on the job. According to the group, most full-time city employees are eligible for 12 paid holidays a year, beginning the day they start their jobs. Under the plan, the holiday pay wouldn't kick in until they'd been on the job or 90 days–saving the city an estimated $10.5 million in 2015.
Other new ideas include increasing the real property transfer tax on properties worth $5 million or more and reducing tax benefits on co-ops and condos not being used as primary residences.
The list's release comes earlier than usual–in part, the group said to serve as a guide to the incoming administration.
"[F]or the first time since we began producing the budget options volume in 2002, city government will have a considerable turnover in officeholders: the Mayor and about one-third of the Council Members will be new, along with the Public Advocate, the Comptroller, and four of the city's five Borough Presidents," they wrote. "Releasing the budget options volume in the fall will make it available to these newly elected officials as they prepare to take office and face the fiscal challenges that lie ahead."