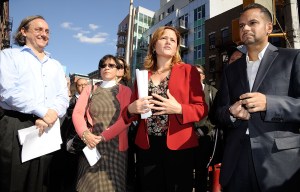 Unlike his county leader brethren to the east and north, Frank Seddio is not an influential Congressman or a much gabbed-about potential successor to Assembly Speaker Sheldon Silver.
The chair of the Brooklyn Democratic Party is a genial attorney by trade who, as recently as three days ago, was everyone's long-shot to help broker a deal to potentially elect Councilwoman Melissa Mark-Viverito speaker of the City Council.
Yet with Ms. Mark-Viverito's crack team of operatives, combined with a degree of fortitude few thought Mr. Seddio possessed and a late assist from Mayor-elect Bill de Blasio, the relatively new county leader swiftly pulled the rug out from his county colleagues, breaking ranks and forging a backroom deal with the ascendant Progressive Caucus that will likely make Ms. Mark-Viverito, a fiery liberal from East Harlem, the second-most-powerful pol in New York City.
If the deal holds, Brooklyn Democrats are set to reap the spoils, including at least one choice committee chairmanship and patronage jobs with the City Council that have eluded them in years past. But Mr. Seddio, according to multiple sources involved in the negotiations, was helped to his decision both by promises of spoils as well as a sophisticated campaign by Ms. Mark-Viverito's team that targeted his members.
It didn't always look like it would pan out this way.
On late Tuesday night, a deal appeared in place between the three most powerful county leaders: Mr. Seddio, the Bronx Assemblyman Carl Heastie and Queen Congressman Joe Crowley to crown Ms. Mark-Viverito's chief rival, Dan Garodnick. Mr. Garodnick had tried to position himself as a compromise candidate in the contest, appealing to both the emerging Progressive bloc as well as establishment interests–thinking he could slide through with county backing, just like current Speaker Christine Quinn. (Mr.  Garodnick has yet to concede and still believes he has enough time to peel members from Ms. Mark-Viverito before the Council votes on January 8.)
Mr. Seddio, once an Assembly colleague of Mr. Crowley's, had reportedly made a pledge to stay united with Queens and the Bronx back at the Somos summit in Puerto Rico. And on Tuesday night, Queens county surrogates began to spread word they had a win.
But as the news was breaking, Mr. Seddio was actually sitting in his Canarsie law office with members of Ms. Mark-Viverito's team. By 9 a.m. Wednesday morning, Mr. Seddio, haunted by memories of Brooklyn's loss of spoils in the last speakership fight in 2005, had agreed to a deal, effectively throwing Mr. Crowley and Mr. Heastie under the bus.
"As they're hashing it all out, Crowley goes into DEFCON 1 and leaks that Garodnick's got the votes. Suddenly all of the Queens loyalists are releasing statements about Garodnick. And it's like 9 p.m. on a Tuesday," a Democratic insider recalled. "And when the sun came up Wednesday morning, it was over. The sudden Garodnick rumors was just a hail mary pass by Queens."
Mr. Seddio declined to comment and many of the operatives involved in brokering the deal for Ms. Mark-Viverito refused to discuss their roles on the record. But by all accounts, the chaotic end had little resemblance to the deliberative, strategic maneuvering that paved the way for the agreement.
In any deal to elect Ms. Mark-Viverito council speaker, her team understood that they would likely need support from at least one of the county organizations to reach the necessary 26 votes. By Monday, Ms. Mark-Viverito already had the lions share of the 22-member Progressives bloc behind her, as well as a small handful of other break-off members–but her team needed more names to declare a decisive win.
Insiders had long thought Mr. Crowley and Mr. Heastie would be crucial players in the deal because of the degree of loyalty both command from their delegations. But Ms. Mark-Viverito's team used Mr. Seddio's relative weakness–he's been a county leader since only 2012–to their advantage, targeting roughly eight or nine council members, many from Brooklyn, who had yet to develop deep ties with their county organizations. Among the list: newly-elected Chaim Deutsch, Rafael Espinal and the long-serving Vincent Gentile in Brooklyn and Rosie Mendez in Manhattan.
Ms. Mark-Viverito's team was Brooklyn-infused for this purpose and included a paid operative, Brooklyn Borough President Marty Markowitz's chief of staff John Paul Lupo, and an operative with the controversial Advance Group, Jonathan Yedin, who has been working in Brooklyn Democratic Party politics for more than a decade and belongs to Mr. Seddio's political club. Though Ms. Mark-Viverito eventually stopped taking free advice from the Advance Group, Mr. Yedin remained a crucial player in the brokering of the deal, sources said.
Term-limited Brooklyn Councilmen Lew Fidler and Erik Dilan, who hail from opposite ends of the borough, also played a role on Mr. Seddio's end in urging the brokering of a deal that benefited Brooklyn, as did Mr. Seddio's law partner, Frank Carone.
Still, the non-Brooklyn members of Ms. Mark-Viverito's team were equally instrumental and understood the value of Mr. de Blasio's home borough. Amelia Adams, the deputy director of New York Communities for Change, who had helped organize Mr. de Blasio's outreach to black communities during his campaign, was a crucial booster of Ms. Mark-Viverito's, sources said. And Jon Del Giorno of the politically-prominent law firm Pitta Bishop Del Giorno & Giblin LLC (which manages the councilwoman's campaign finance filings) also helped pave the way.
Then came in Mr. de Blasio to seal the deal.
As fellow Brooklynites, Mr. Seddio and Mr. de Blasio have known each other for many years, but their politics are not aligned. Mr. Seddio is a moderate, not prone to espousing "Tale of Two Cities" rhetoric and endorsed Mr. de Blasio's rival Bill Thompson in the Democratic primary. Ms. Mark-Viverito's far-left leanings are even more alien to Mr. Seddio, observers noted.
"Seddio was openly for Bill Thompson so it isn't the warmest relationship with de Blasio," a Democrat familiar with the negotiations said. "But because so many of the Progressive Caucus members were from Brooklyn, it just made sense to make a deal."
On Monday, Mr. de Blasio, a former Brooklyn councilman himself, began making calls to individual members  informing them that Ms. Mark-Viverito was his preferred candidate. That afternoon, he informed Mr. Seddio he was calling Brooklyn council members. Mr. de Blasio's tone was "non-threatening," a source recalled, with no "demands." After that, top aides for Mr. de Blasio conveyed that Mr. Seddio should back Ms. Mark-Viverito. 
"Bill de Blasio was like Mariano Rivera coming in for the bottom of the 9th to close out the game. He was a game-changer," said a source close to the negotiations. "Frank Seddio also hit a grand slam in the bottom of the 9th."
"They all knocked it out of the park," the source added.