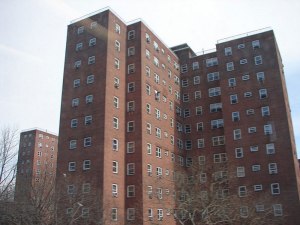 The New York City Housing Authority's controversial land lease plan, in which the cash-strapped agency would have raised direly needed repair funds by building market rate apartments on public housing land, looks unlikely to become a reality, at least in the form proposed by the current administration.
Today NYCHA announced that despite receiving promising proposals for 11 of the 14 possible development sites in six of eight housing projects, it does not expect to move to a conditional designation of any of the sites until 2014, after Mayor Michael Bloomberg, a staunch supporter of the plan, is out of office.
"Along with the next administration and the US Department of Housing and Urban Development (HUD), NYCHA will have a strong foundation from which to pursue this avenue for funding critically needed investment in New York City's aging public housing infrastructure," the Housing Authority wrote in a statement.
Mayor-elect Bill de Blasio has been highly critical of the current initiative, but has not voiced total opposition to a land lease program.
"Mayor-elect de Blasio has been clear in his opposition to the Bloomberg Administration's infill program. As he's said, for any plan
to be considered, it must create affordable housing, create jobs for NYCHA residents, and steer money back into NYCHA to address its
backlog of maintenance and repairs," Mr. de Blasio's spokeswoman said in a statement.
Opponents of the land lease plan say that they believe the postponement will effectively kill the initiative. In any event, it will almost certainly mean the end of the plan envisioned by the current administration.
"It's a surprise, a happy surprise," Legal Aid Judith Goldiner, who represented tenants of two buildings in a lawsuit they filed with the City Council to stop the plan. The judge in the case ultimately dismissed the lawsuit as being premature, but Ms. Goldiner said that NYCHA's decision feels like a victory. "Whatever happened with our lawsuit, they are not moving forward," she said.
Nonetheless, the question of how the Housing Authority under Mr. de Blasio will address some $6 billion in unmet capital needs remains unanswered. Mr. de Blasio, who has said repeatedly that he intends to replace current chairman John Rhea, has yet to name the successor who will be tasked with repairing and maintaining the vast system's aging housing stock in the face of ongoing federal funding cuts.
It will be difficult for the next administration to ignore the projected revenues that a land lease program would bring. By taking the highest financial offer on each of the 11 of 14 sites that developers offered proposals for, NYCHA projects that ground rent payments would average $37 million a year, enough to finance the $700 million to $900 million worth of repairs needed at the six developments.
NYCHA, when reached for comment, declined to discuss its decision not to move forward with any of the proposals this year. In any event, the brief window between the November 18 deadline for Requests for Expression of Interest, or RFEI, and the end of Bloomberg's term on January 1 did not leave much time for evaluation.
Other than financial projections, NYCHA released very little information about the proposals it received, describing the developers only as "several well-capitalized and experienced New York City residential builders" who delivered proposals that "aspire to enhance our public housing developments and neighborhoods with well-conceived and well-designed plans." The Housing Authority even declined to reveal which six developments that proposals had been submitted for.
"The quality of the proposals was especially gratifying," said Fred Harris, NYCHA's Executive Vice President for Real Estate Development, in a statement. He added that NYCHA had included a requirement that developers on five of the six campuses would have to participate in the ULURP process, allowing for more community input, the lack of which had been one of the criticisms of the plan.