CHARITY GALA
Alon Livné dress in blush 
YSL platforms in nude 
Erickson Beamon for Anna Sui jewelry
I think of this dress as something Grace Kelly would have worn if she were in a modern version of High Society. Alon Livné is one of my favorite new designers. He worked at Alexander McQueen and Roberto Cavalli. That means he can be a bit wild, but some of his dresses are more restrained—which are the ones I gravitate towards. That doesn't mean they lack in detail, though. I love how he took this blush chiffon sweetheart cut dress, and transformed what could have been too princess-y into a truly modern gown with the sculptural waistband and structured boning around the top.
DOWNTOWN COCKTAIL
LRK gold sequin dress 
Erickson Beamon
"Je T'aime" necklace 
YSL platforms in nude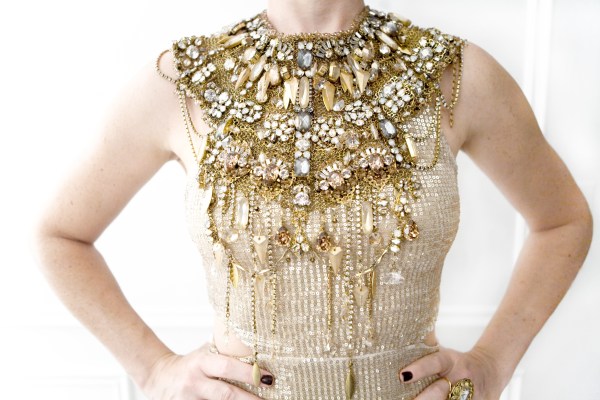 I love wearing emerging designers, because the fashion industry is so vast and so much talent goes unnoticed. LRK is another one of my favorites. I wore this outfit to the premiere of Gravity in NYC and the wild after-after party that George Clooney hosted downtown. I paired the LRK dress with an Erickson Beamon statement necklace which lent a rococo-meets-space-age feel to the outfit. I've been wearing Erickson Beamon jewelry since I discovered it over eight years ago. Now that they are collaborating with designers like Aerin Lauder and Anna Sui their collections are only getting stronger.
OFFICE PARTY 
Pierantonio Gaspari pantsuit
Marchesa clutch 
Louboutin heels 
Usually you have to choose between being comfortable and being elegant, but in this silk jersey power suit, you'll feel as if you are wearing pajamas. Its minimalism allows it to be dressed up or down. If I had to travel with just one item in my carry-on to Europe, it would be this outfit. I can envision power-lunching in it at the Wolseley and then wearing it on to an office party with the addition of a few accessories, like a stylish handbag. From an ex, I have quite a collection of Marchesa clutches. I find that they add that essential feminine party flair to any outfit–—especially for those of us who prefer pantsuits to flouncy dresses.
BOOK PARTY 
L.A.M.B. houndstooth shirt 
Zara vegan leather pants 
Charlotte Olympia "Matilda" shoes 
Prada tote 
You need to look smart at these functions. I recently put together a literary event for Prada to launch their new eyewear collection along with their short story competition for their publication Prada Journal. Admittedly, a big tote might not be everyone's first choice for evening dressing. But in New York,  where you have to lug your heels around all day, along with your computer, makeup bag, favorite new book (I still read printed hardcovers), dog treats, and so on, it is absolutely essential.
Prada's classic tote is my essential accessory for book parties. This houndstooth silk shirt is flatteringly tailored while also being very geek-chic—who knew that Gwen Stefani would have such an eye for the fashionably nerdy? These Charlotte Olympia heels are probably my favorite shoes of all time. I bought them as an early holiday present for myself. The fact that one of the heels is embroidered with "Once Upon a Time" and the other with "Happily Ever After" not only speaks to my obsession with stories but also to my single status. I'm hoping to knock these heels together a few times at a holiday party and make my own fairytale come true!