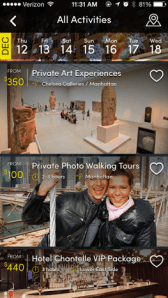 Are you ever in the middle of a strange city looking for something to do that isn't going to Madame Tussauds for the third time? You might be interested in Peek's new app, which takes the same travel experiences as seen on the site but now makes them available to instantly purchase.
The San Francisco-based, Jack Dorsey-funded travel company released the app today for iOS that is targeting a different part of the travel sector: booking activities. They're chosen by a team of fancy tastemakers (like recreating Adrian Grenier's "perfect day" in New York!) and the app's travel team to curate a list of things to do. Peek users can book tours in 17 U.S. cities and two European cities (London and Paris).
The app opens with a sleek personality test to help you pick what kind of things to do based off pictures. After that, you're served with a list of options to pick from. Of course, we ended up with the foodie category. If we decided to skip work for the day, Betabeat could've ventured on a $50 cupcake tour or a $75 wine expedition, but at those prices and this weather it was best to stay inside. (To be fair, there's an under $50 category for the price-conscious). 
Since it isn't in anyone's best interest to haul butt from downtown to the Met in the middle of tourist-packeded December, there's also a geo-location feature that picks out nearby activities. Also, there's in-app booking that offers a "best price guarantee" and sometimes offers small discounts.
In a phone call with Betabeat earlier this week, Peek CEO Ruzwana Bashir said that only one in five people plan their trip ahead of time. She hopes that an instantly bookable travel app fills the void of the spontaneous travelers who don't feel like organizing a trip.
"The app is there to allow everyone to do that on the go," said Ms. Bashir. "We found that it was difficult what to do and even more difficult to book."
If anything, at least it somewhat solves the problem of stealing free Wi-Fi from a grungy Starbucks as you look for things to do.