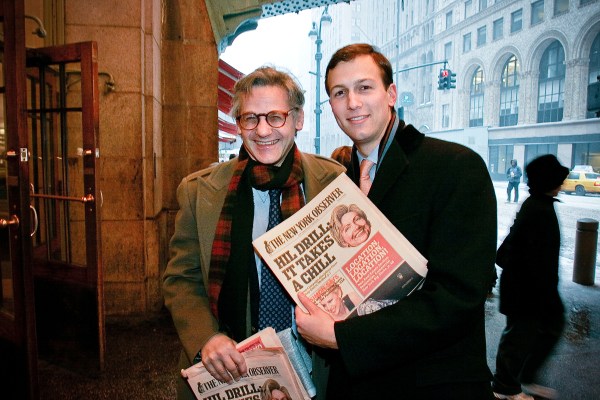 Peter Kaplan was a giant. When I bought The New York Observer, my experience in journalism was limited to a single article I had written for a college magazine. I love business and thought that with the brand and readership demographics that the paper had built, I could find a way to spin it into a business. Peter was my partner and mentor on the journey. And I am a better man for having known him.
Our relationship started out rocky. After a few months of unproductive, back-and-forth meetings, I got a call from my office that we had two front row seats for that night's Yankees play-off game. I invited Peter, and off we went. When we got to our seats, we bought some beers and peanuts as the game started under a slight drizzle. I explained to Peter that the paper had never made a profit and we needed to rethink everything to try and come up with a way to revitalize it. We got into a conversation about what the paper was about, what it needed to be, its values and tenets, and what we shouldn't change and what we must change. After three hours of talking, we realized that the drizzle had turned into a downpour. We looked around and noticed that Yankee Stadium was literally empty—we were the only two people sitting out there, drenched to our underwear. It was a quintessential Peter Kaplan moment and one I cherish to this day. We made an agreement that night. I would trust and learn from him, and he would be open-minded about creating a sustainable newspaper that both of us could love and be proud of. 
Peter came to me two weeks later with a mock-up for the tabloid version of The New York Observer, and we spent the next three months designing it together. I kept telling Peter that the current paper looked like his office: It had lots of cool, fascinating stuff all over the place, but the arrangement made sense only to him. The tabloid format allowed him to organize the content better for the reader while still providing a home for the brilliant journalism he championed. We enjoyed putting the paper out that way together for the next two years.
Being around Peter was great. There would be days when he saw that I had a lot on my shoulders and he would drop into my office with a bottle of bourbon and say, "Let's have a drink." Peter drank only bourbon as a result of a reporting trip he had taken down south where he ordered a scotch and was told by his subject that only Republicans drank scotch—Democrats drank bourbon. After that, Peter was a bourbon man.
Peter believed in journalism: the power of writers to make a difference and strike fear into the hearts of their subjects. He was also compassionate, and I admired the way he handled the more sensitive aspects of coverage with care and deliberation. Above all, he loved his team. He mentored them and cajoled them to greatness, and I saw his team fight for him every day, because they knew he had their backs. It was easy for him to make these mostly younger writers revere their craft, because he did so himself. I remember the day I walked into his office to find him in tears. I believe it was over a story that he had gotten Gay Talese to write to coincide with The New York Times moving out of its headquarters.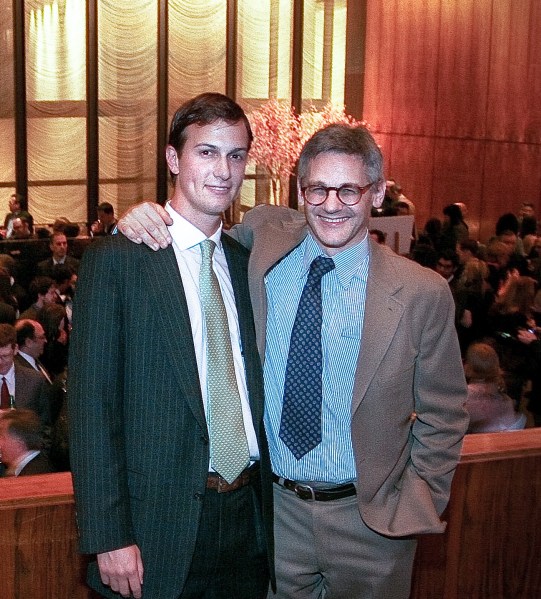 Peter's quirks and eccentricities were part of what endeared him to so many. His signature uniform consisted of the same khaki pants, blue shirt with collar buttons and the same four fraying ties. People in the office would try to determine the significance of the nuanced changes—one collar button buttoned or tie loosened versus up all the way. There was the time we met at the Havana Club for bourbon and cigars and Peter was wearing his uniform but with tennis shoes that day. The club had a no-sneakers policy, and they went to fetch the spare pair in his size. When they gave him the black shoes they had, Peter asked if they had any brown ones. When they said this was all they had, he turned to me and said, "Jared, why don't we try someplace else. I don't wear black shoes." With Peter, you didn't question these things; you just went with it and enjoyed it.
Peter was a very hard worker. When he would vacation in Maine, he would camp out in the public library all Tuesday, checking pages and rewriting headlines to make sure that he inspected every inch of the paper before it went to the printer. I would joke with him that he was Ahab and that the paper was both his greatest torment and his greatest pleasure. His love for The Observer, his sense of its place in the city's firmament, was infectious. People around him worked hard, because they saw the example he set. He was a phenomenal leader, and I learned a lot from him in that regard.
Peter's skill as an editor came from two amazing qualities: his ability to inspire and train journalists and his unique view of the city. I recall Peter saying to me that the hardest part of his job was convincing a reporter that the story he or she was working on right that minute was the most important story in the world and that it would make or break the reporter's career and change the course of history. He then said the even harder thing was doing the same again the next week.
Peter was amazingly charming, and everyone he came in contact with felt an incredible bond to him. He told me the story about how when he wrote a profile on Eddie Murphy, Eddie would call Peter's house for the next few months, get his girlfriend on the phone and do a very credible Peter Kaplan impression. Then there was the time he ended up on the 125th Street train platform at 1 a.m. with Bill Murray and two cops driving golf balls off the platform. When a New York magazine reporter trying to do a write-around profile of me showed up on his front lawn one Sunday, Peter called me and joked, "Now I know what Scooter Libby feels like." He drove the eager reporter to the train and taught him a thing or two about reporting on the ride over.
No matter the topic, Peter had a way of making everything sound like it was out of a storybook. If someone wrote a tough article about The Observer, he would tell me, "They're putting us on notice," or "They're throwing high and inside." When we wrote an insider story that he was proud of, he would say, "That story is doing great business." I had no idea what that meant or by what metric he was measuring it, but Peter was happy. His New York City was filled with villains and knights, and no subject was too small to escape his sharp eye and golden tongue.
When the Second Avenue Deli was reopened, we went together, and he was thrilled with the matzo ball soup. Our plan was to discuss business, but by the time he was done charming the waitresses with the history of delicatessens in New York City, the lunch was over, and there was no time left to discuss business. It may have been a classic Peter delay tactic, or maybe he just couldn't help himself. 
Peter and I took a trip to Las Vegas together to help start Vegas Seven, which is now the leading weekly in Las Vegas. He was excited to be launching another print publication and had created all of these mock-ups featuring his larger-than-life worldview, Vegas style. One of his mock-up stories was something like "Mom by Day, Showgirl at Night." Peter hadn't been to Vegas in something like 20 years. But instead of visiting one of the glorious new palaces of consumption, Peter told me, "Take me to a place Sinatra would have gone to."
While I enjoyed my three years working alongside Peter, the editor, the time I am truly thankful for was with Peter, my friend. When it came to perspective or life advice, Peter was full of pearls of wisdom. There was the time I was in my office and my assistant brought in some invitations to swanky New York events. Peter was excited for me but said, "Jared, the best advice I can give you is to enjoy all of the things you see in this town but keep them in perspective. If this stuff ever becomes too important to you and you ever feel like you need to have these invitations to define who you are, that's when you are in too deep." He understood the drug that NYC could be. All of the action, power and celebrity in one place—that's what made the paper such an entertaining read. But Peter also understood the underbelly. He knew that all of the actors in his play went home at night and were mortals and that at the end of the day happiness will only come from your family, friends and community.
I keep a gift Peter gave me on my desk. It's a letter from then-Congressman Fiorello LaGuardia, written February 1925, to his secretary, instructing her to "cut out that 'LaGuardia for mayor' stuff." Peter gave it to me with a note that told me you never know where your curiosity and efforts will take you. Always deflect the criticism, and never stop aiming for impact and greatness. Peter encouraged me to follow my dreams with the paper and ignore the noise and criticism.
Peter and I spent three years publishing this paper together. We had a lot of fun. We laughed a lot. We argued, we plotted, we dreamed, and we put out some excellent journalism that chronicled the characters in this city. Peter was one of those characters. He was a big man with a big heart.
The last time I saw Peter was for coffee at the Four Seasons in March. Getting a big bear hug from him brought back all of my memories of why I adored him so much. Our conversations were about family and how his illness helped him focus even more on life and what was important to him. He loved his family and loved hearing about mine. We spoke about the paper, and I asked him how he felt toward me since it had been on my mind. It was complicated. On the one hand, I broke up his clubhouse, but on the other hand, I saved The New York Observer from extinction.
As I read the wonderful tributes that have been pouring forth from every corner of Manhattan's media world, the depth of Peter's feeling for this paper is overpowering. Peter loved The New York Observer. He understood what's special about this newspaper, and he also knew that it had to change and evolve in order to survive. Peter told me in March that he was very proud to see the paper live on and encouraged me to take chances and create something that was relevant to a new generation of New York characters, a new crop of villains and knights. We will continue to work hard every day to honor Peter's memory by honoring the paper he led and loved.