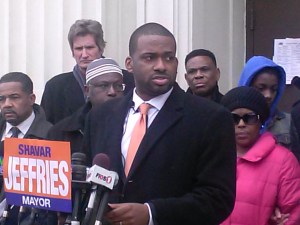 In a city barraged by violent crime, 104 murders this year, 45 of them in the South Ward, mayoral candidate Shavar Jeffries on a cold street corner this afternoon doubled down on an attack plan to retake control of Newark.
In crisis mode, the former Assistant Attorney General, a native of the South Ward, stood with grieving families in front of the elementary school in the South Ward attended by slain teenager Zainee Hailey.
"We're in the midst of an historic epidemic. [But] even during this time of despair, there is cause for hope," said Jeffries. "We are optimistic because our own history in Newark teaches us that we can do better. We are optimistic because leaders and residents in places like East Orange, the Bronx, and Brooklyn have turned war zones that were violently unlivable into safe, secure neighborhoods by investing in the right policies and programs.
"My faith is rooted not only in the strength of Newark's people, but also my experience as an assistant attorney general where we reduced violent crime three years in a row throughout the state," added the candidate. "The question here is not what works, but whether we have the courage to do what does."
One of four mayoral candidates, Jeffries pitches his candidacy as the only crime fighter in the contest.
Yesterday, one of Jeffries' rivals, South Ward Councilman Ras Baraka, joined ministers and community leaders, and the mother of murder victim Kasson Morman.
Baraka discussed his own plan to bring about a gang ceasefire, and called for an immediate response by city, county and state police to the recent surge in Newark killings.
Mr. Morman was a student at Central High School, where Baraka is taking a leave of absence as principal.
Jeffries' five-point plan is an extension of his public safety plan announced in October and calls for:
1. Youth Development and Gang Prevention
Increase opportunities for at-risk youth in proven gang prevention and youth development programs.
Add at least 1,000 after-school slots for children at risk, and at least 200 slots in proven gang-prevention programs for highest risk, gang-involved youth with a history of prior crimes.
2. Non-Violent Offender Diversion
Divert non-violent offenders to community-based programs.
Use resources under the Affordable Care Act to provide more addiction and mental-health services for youth and adults at risk. This prevents crime by addressing the needs of addicts and those with mental health challenges, and frees scarce criminal justice resources for violent offenders.
3. Launch Real-Time, Intelligence-Based Crime Control Center
Build and operate real-time crime-control data center to drive intelligence-based preventive policing.
Use forecasting models and analytics to more accurately identify potential criminal activity and more effectively deploy police resources.
4. Hire 75 Police Officers
Hire 75 police officers and deploy them for proactive, intelligence-based community policing in high-crime areas.
Create Violent Crimes Task Force for targeted operations in tandem with crime-control center.
5. Zero Tolerance for Gun-Related Crimes
Pursue mandatory sentences for all illegal gun possession or trafficking in Newark.
Pursue mandatory sentences for all crimes involving illegal gun use, including aggravated assaults, armed robberies and homicides.
Jeffries said all of his proposed initiatives can be paid for either with existing resources or through a modest reallocation of current expenditures.