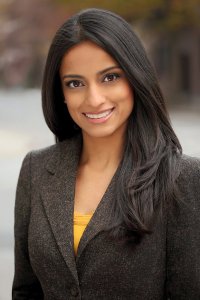 Jenifer Rajkumar, a Democratic district leader and attorney who lost a heated primary challenge this year against Councilwoman Margaret Chin, has registered a campaign committee to run for the seat held by State Senator Daniel Squadron.
Mr. Squadron has been the subject of rumors that he's in line for a job in Mayor-elect Bill de Blasio's administration next year, which would hypothetically leave his seat open for the taking.
In a statement, Ms. Rajkumar indicated the new committee, which will allow her to fund-raise, was intended as preparation for such an event. "The State Legislature needs a fresh, ethical, and progressive voice and that is why I filed a committee. We want to be as prepared and organized as possible so that in the event of a vacancy we are ready to hit the ground on Day 1," she said.
Other candidates mentioned for Mr. Squadron's seat if he steps down include Ms. Rajkumar's Lower Manhattan co-district leader, Paul Newell, and a former Brooklyn district leader, Lincoln Restler. Mr. Squadron's seat is predominantly based in Manhattan but ropes in parts of Brownstone Brooklyn, Williamsburg and Greenpoint.
In an interview with Politicker earlier today, Mr. Newell also confirmed his interest in Mr. Squadron's seat, but only if Mr. Squadron does not run for re-election. "I think Daniel Squadron's a superb state senator," Mr. Newell said.
Whether an open primary occurs or if insiders pick the Democratic nominee in a special election will depend on Gov. Andrew Cuomo, who has shown no inclination to call special elections to fill vacancies thus far.
Update (4:32 p.m.): Reached for a response, Squadron spokeswoman Amy Spitalnick forcefully denied any rumors of an impending vacancy:
"Senator Squadron will vigorously campaign for re-election on the strength of his record.  Anyone expecting a vacancy will be disappointed."
Additional reporting by Jill Colvin.