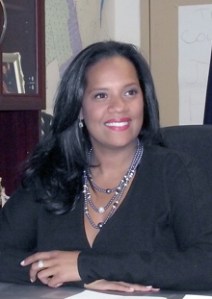 After a bevy of forums and closed-door powwows, the field of City Council speaker candidates appears to be set at seven. But some insiders are increasingly buzzing about one dark horse contender for the second-most-powerful post in the city: Councilwoman Julissa Ferreras. 
In interviews, multiple sources said the Queens councilwoman has discretely indicated that she would still like to be considered for the job and has allowed surrogates to boost her candidacy behind-the-scenes, remaining a quiet contender in the backroom race. And insiders said Ms. Ferreras, who has enjoyed a rising council profile, remains a viable–if perhaps unlikely–alternative to front-runners like Council members Melissa Mark-Viverito, Dan Garodnick and Mark Weprin.
"She is making her play for speaker," one Queens Democrat insisted. "She's doing a lot of quiet work, reaching out to people, trying to become a consensus candidate."
Two Queens sources said the prominent Queens-based lobbyist Bill Driscoll is at least one of the insiders floating her candidacy. Mr. Driscoll, a former staffer to Councilwoman Karen Koslowitz and Queens Democratic Party chair Joe Crowley's predecessor, Thomas Manton, has strong ties to the county machine that is expected to play a significant role in the decision-making, along with the 22-member Progressive Caucus bloc. He declined to comment for this story.
"If the county leaders don't want Melissa, the members don't want Melissa and the mayor wants a Latina, then Julissa would be a dark horse candidate," a source close to the Democratic county organizations told Politicker. "Things still have to break her way. She wouldn't be a miracle candidate to get it, though."
Reached for comment on her potential candidacy, Ms. Ferreras did not deny her interest but said she was focused on  making sure the City Council gets the "best candidate" for speaker.
"Whoever is elected as Speaker will need to face some of the greatest challenges confronting our city and the incoming administration," she said in a statement. "As a Council Member who is now entering a second term, I am committed to making sure that this process results in electing the best candidate to meet those challenges and ensure a strong legislative body."
Ms. Ferreras's strengths, her supporters argue, lie in her proven deal-making ability, membership in the Progressive bloc and close ties to the Queens county machine. As a Hispanic woman in a body hungry for a diverse leader, Ms. Ferreras is potentially a more palatable alternative to Ms. Mark-Viverito, a close ally of Mayor-elect Bill de Blasio and an unabashed liberal who makes some council moderates wary. (Two other minority councilwomen–Annabel Palma and Inez Dickens–are openly vying for the speakership but are not widely seen as top-tier candidates.)
For several close watchers of the race, Ms. Ferreras could represent the ultimate compromise candidate if deals for other contenders fall through.
Ms. Ferreras nonetheless remains a long-shot for several reasons. For one, her potential rivals have been aggressively lobbying their colleagues for months, making their cases at public forums while she has been out on maternity leave. Some progressives might resent Ms. Ferreras's 11th-hour ascension after she did not speak at the forums. And one Queens source argued that Ms. Ferreras, by pledging to vote with the Progressive bloc instead of the county organization, had alienated Mr. Crowley. Mr. Weprin, also from Queens, remains a county favorite, others said.
The final mark against Ms. Ferreras is her past association with disgraced former Councilman and State Senator Hiram Monserrate. Ms. Ferreras served as chief of staff to Mr. Monserrate, who would later go to prison on mail fraud and conspiracy charges, after being expelled from the Senate for an assault conviction. (Ms. Ferreras was never charged in any wrongdoing.)
"She still has to overcome Hiram Monserrate," the Democratic Party source said.
Update (2:30 p.m. 12/14): A spokeswoman for Ms. Ferreras reached out to Politicker Saturday to say Ms. Ferreras does not consider herself a speaker candidate.
"While I am committed to voting in line with the Progressive Bloc for the next Speaker, I am not a candidate," Ms. Ferreras said in a statement.