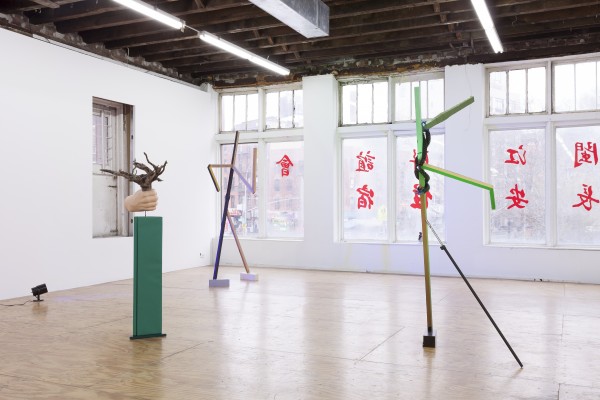 One suspects that K8 Hardy could have continued to earn a pretty healthy living, and hearty helpings of praise, by continuing to make the gloriously unhinged, sometimes-abject maybe-self-portrait photographs that earned her a spot in last year's Whitney Biennial, but for her third show at Reena Spaulings, she's switching things up, focusing on crafty, hilarious, gloriously unhinged sculptures.
Joel Shapiro, the 72-year-old New York sculptor known for energetic stick figures that he constructs out of just a few seamlessly joined blocks of wood or metal, is the unlikely inspiration for many of 36-year-old Ms. Hardy's new works. She constructs her own bodies out of wood sticks that are comparatively ramshackle, just barely screwed together. Some bear objects that washed up on Fire Island last summer (bra straps, a tree branch), putting her in the lineage of Rachel Harrison and Isa Genzken, other artists known for their canny messes. Ms. Hardy's works seem to be spilling over, writhing on the floor or cavorting awkwardly in space. They're coming undone, just as completely as the characters and psyches that she enacts in her photographs.
Ms. Hardy's sculptures are painted slapdash with light-colored paint, though it takes some doing to figure out which colors, since the works are lit from below by a cheap gobo-style light that is cycling through shades, changing the color on the wood as if various Photoshop filters were being tried one after another. It's an ingeniously straightforward bit of trickery.
Taken individually, I'm not convinced that all of these pieces would hold up. Some feel too slight, too hastily assembled. Taken together, though, they disorient and delight. (Through Dec. 22)