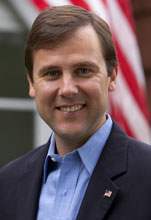 Senate Minority Leader Tom Kean Jr. (R-21) sought to reward lawmakers who supported his effort to retain his leadership position and slap the legislator who attempted to oust him, according to his leadership allocation request.
Kean proposed slashing Sen. Kevin O'Toole's (R-40) 2014 legislative funding by $15,000, according to the Senate minority leader's funding allocation requests submitted to the Senate office and obtained by PolitickerNJ.
The request also would have slashed Sen. Chris Bateman's (R-16) allotment by $15,000 compared to the previous year's funding. Both men received $25,000 in leadership funding in 2013.
At the same time, Kean proposed giving senators friendly to his cause to hold on to the leadership position increases in 2014 allocations, including Sen. Joe Pennacchio (R-26), whose funding would have jumped $15,000 under the proposal, and Sen. Chris Connors (R-9), who would have received an extra $6,000 over 2013 figures provided to PolitickerNJ.
Sens. Diane Allen (R-7) and Samuel Thompson (R-12) would have also received increases under Kean's proposal.
However, Senate President Steve Sweeney (D-3) cut more than $140,000 from the leadership funding account and took control over disbursing the funds. According to figures obtained by PolitickerNJ and first reported by the Star-Ledger, Sweeney drastically cut funding to lawmakers loyal to Kean and increased the 2014 amounts for senators who attempted to oust the Sweeney foe.
O'Toole declined to comment and a message left for Bateman was not immediately returned.
The news comes as a source told PolitickerNJ that Kean had a hand in dismissing Matt Murray as deputy executive director of the Senate GOP Caucus.
Murray, who served as O'Toole's chief of staff in the 1990s, was reportedly let go about a week after Republican lawmakers voted 10-6 to keep Kean in his leadership position.
A Kean spokesman did not immediately return a message seeking comment.