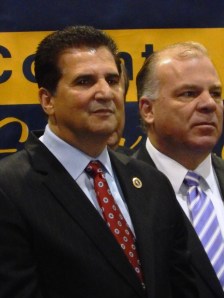 NEWARK – The cross-the aisle poster boy for Gov. Chris Christie's re-election bid this year, Essex County Executive Joe DiVincenzo launched his own campaign this morning with an ice storm clawing at the Essex County College Gymnasium and a brace of Democrats staunchly at his side, notable among them U.S. Sen. Cory Booker (D-NJ) and U.S. Rep. Donald Payne (D-10).
"I want to be re-elected," DiVincenzo told the crowd. "I love my job."
That job includes oversight of 3,500 workers in an overwhelmingly Democratic county with a population of 800,000.
The gym held a crammed-together assemblage of county and statewide Democratic forces who appeared unruffled by DiVincenzo's very public support for Republican Christie.
Indeed, there were as many superlatives in the house as people, or it seemed that way anyway as Senate President Steve Sweeney (D-3) made the two-hour drive up to Essex County in life or death conditions to back DiVincenzo for a fourth term.
"Joe's a leader, not a follower," declared Sweeney. "We need more people like Joe, who care more about people than politics. I'm going to do everything I can to help you get elected."
A second man rumored to be in the 2017 gubernatorial mix, Jersey City Mayor Steve Fulop, also stood onstage with DiVincenzo.
"Amazing," said Speaker-elect Vincent Prieto (D-32) when assessing the work of the powerful incumbent executive, which includes maneuvering the county out of junk bond status to a AA2 bond rating, and building a $40 million surplus.
"The public servant against whom all others will be measured," added Essex County Clerk Chris Durkin.
DiVincenzo and his allies have long trusted in the mechanics of Democratic Party Primary politics, which puts the exec on the line with sturdy brand names incumbent Senator Booker and U.S. Rep. Payne.
That means if a challenger emerges who wants to run against DiVinceno as "the true Democrat in the race," he or she will conceivably be in the tongue-tied position of attacking Line A Democrats, or so runs the political logic.
"Good government is good politics," said DiVincenzo, a former All-American quarterback turned recreation director at Newark's North Ward Center.
His mentor, North Ward Leader Steve Adubato, Sr., sat in the front row and gave his acolyte two thumbs-up.
Launching his re-election bid early with support from all corners of the county, DiVincenzo appeared to be trying to take away oxygen from would-be challengers, who have yet to appear. The absence of public labor support, including CWA and NJEA, surprised no one. SEIU was not officially in the house, either, but both the Carpenters and Laborers showed some muscle in the room for DiVincenzo.
PolitickerNJ.com noted the absence of Speaker Sheila Oliver (D-34), who lost her speakership to Prieto after serving two terms.
"She would have been here," said DiVincenzo Chief of Staff Phil Alagia, who noted that Oliver was traveling out of state today.
In addition to those public people already mentioned, Paul Brubaker, state director for U.S. Sen. Bob Menendez (D-NJ), was in attendance, and offered the senator's resounding endorsement. So were the bulk of the county freeholders, Essex County Democratic Chairman Leroy Jones of East Orange, state Sen. M. Teresa Ruiz (D-29), state Sen. Nia Gill (D-34), North Ward Councilman Anibal Ramos, Assemblyman Ralph Caputo (D-28), Assemblywoman L. Grace Spencer (D-29), Assemblywoman Eliana Pintor Marin (D-29), Orange Mayor Dwayne Warren, West Orange Mayor Robert Parisi, East Ward Councilman Augusto Amador, Weehawken Mayor Richard Turner, and Erica Daughtrey of the office of U.S. Rep. Albio Sires (D-8).
"We need more leaders like Essex County Executive Joe DiVincenzo – who for the last 11 years has always put the residents of Essex County first," Sires said in a statement. "It's an honor to join U.S. Senator Robert Menendez, U.S. Senator Cory Booker and my colleague U.S. Congressman Donald Payne in endorsing Joe D to keep the progress going. New Jersey's counties are facing tremendous challenges, and under the leadership of Joe D he will continue moving Essex County in the right direction on behalf of its residents."