Herbert Waichman, a founding partner of the national law firm Parker Waichman LLP, knows a thing or two about bumps and bruises. A personal injury attorney of long standing, Mr. Waichman butters his bread with the stuff of accidents, negligence and recklessness. Earlier this year, however, Mr. Waichman stood accused of injury-expertise of another kind, when his former secretary testified in Nassau County Court that Mr. Waichman had emailed her pornographic material and threatened to correct her "bad girl" behavior with a whip, which, she said, he kept in his office. (The allegations arose in the context of a lawsuit filed by Mr. Waichman against one-time colleagues for client poaching.)
But if the lawyer did harbor a crime and punishment-variety fetish, is it any wonder that he brought it to work? Fetish Fortress is all the way in Chinatown! And Mr. Waichman is based on the Upper West Side. Perhaps the sale of his townhouse at 163 West 95th Street for $4.6 million, which recently appeared in city records, indicates plans for a southern migration? Alas, the Columbus Avenue address listed on the deed suggests that Mr. Waichman will be staying local.
The townhouse, which was listed with Corcoran's Thomas Wexler—who was profusely apologetic about his inability to speak about the sale—features a fenced patio and garden, hardwood flooring and regal interior molding and columns. Configured currently as a quadruplex, with two studio apartments, it stands ready for easy conversion to a generous single-family home. Alternatively, the studios might be shopped out for rental income—one is currently listed for $2,200 a month. In all, seven bedrooms and seven baths are distributed over four floors. Mr. Wexler's listing makes no mention of a recreational dungeon, but then again, it also promises that the house will be "delivered vacant." Who can say what these walls have seen?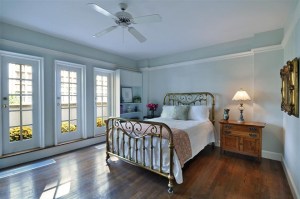 The buyer, who goes by the near all-encompassing name of Pan Manhattan LLC, will be within easy walking distance of Central Park, where—at least for the time being—horse-drawn carriages come and go, captained by crop-bearing coachmen. Was it here that Mr. Waichman was inspired? "He said, 'Don't let me have to get my whip!'" his secretary testified. "'Don't let me have to whip you. Stop being a bad girl. I'll get my whip!'" In any event, if that dialogue is genuine, we suspect Mr. Waichman picked it up in less bucolic environs.