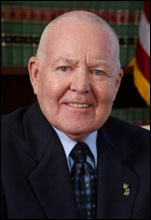 TRENTON – Lawmakers are hoping Gov. Chris Christie will approve spending $1 million on a pilot program aimed at curbing domestic violence in the state.
A bill to establish a four-year pilot program in Ocean County that would require certain domestic violence offenders to wear electric monitors cleared a Senate panel Thursday. The proposal would require people convicted of contempt of a domestic violence order to wear a monitoring device.
"I am hopeful that the governor will see the merits of the bill and make the necessary appropriations," said Dancer, arguing the bill could "prevent deaths" and work to "significantly reduce" domestic violence.
The bill, S2910 and A321, cleared the Senate Budget and Appropriations Committee following a unanimous vote from lawmakers.
Offenders could be ordered to pay the costs of victim notification and the expenses related to wearing the device, according to the bill.
The bill is named "Lisa's Law" after Letizia Zindell of Toms River, who was murdered by her former fiancée in 2009.
Dancer first introduced the bill in 2009, but it failed to gain any traction until recently.
Senate President Steve Sweeney (D-3) is the bill's prime sponsor in the upper chamber.
The full Assembly passed the legislation in June following a 70-0 vote with six abstentions.