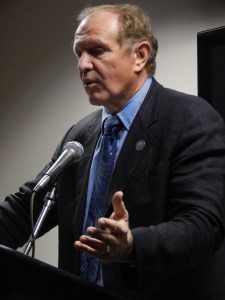 TRENTON – A main booster of internet gaming in New Jersey who last month announced plans for an international level of expansion laid out some of the nuts and bolts today of his proposal.
Sen. Ray Lesniak, (D-20), Union, a leading proponent of internet gaming, introduced S3084, which is designed to help make Atlantic City a magnet for international gaming companies that could produce jobs and revenue.
The bill would require the companies to be located in Atlantic City, where Lesniak said they could take advantage of the business and regulatory infrastructure already in place for the casino industry
In addition, it would authorize the Division of Gaming Enforcement to provide licenses to companies that offer Internet gaming to other countries where it is legal. That would allow overseas customers, including casinos, to place wagers on casino games via the Internet.
Under the bill, the service would be restricted to foreign countries and regulatory agreements would have to be implemented between New Jersey and the foreign jurisdiction.
The bill also would require that facilities, equipment and personnel must be located in a secure facility inaccessible to the public in Atlantic City.
"International internet gaming is already taking place," Lesniak said in a release. "This gives us the opportunity to get in on the ground floor with a new business sector that offers economic growth and job creation.
"New Jersey has a lot to offer. We have the stability and security of a regulated marketplace, we have an educated workforce and a high-tech infrastructure. We can make New Jersey and Atlantic City a global destination for internet gaming."
He said that an analysis by Econsult Solutions predicted the plan could generate $5 billion to $8 billion a year in revenue and produce 11,000 to 16,000 jobs.
Earlier story:
Dropping international online gaming bill, Lesniak elbows Adelson