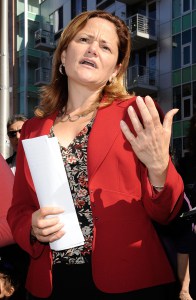 Councilwoman Melissa Mark-Viverito appears to have the votes she needs to become the next speaker of the City Council, after Brooklyn Democratic chair Frank Seddio broke ranks with his fellow county leaders at the urging of Mayor-elect Bill de Blasio, sources said.
Multiple sources told Politicker that Mr. Seddio this morning cut a deal directly with Mr. de Blasio and that his members–combined with support from the progressive bloc–give Ms. Mark-Viverito all the votes she needs. The Brooklyn City Council delegation will meet today to discuss the deal.
But with a full three weeks to go until members cast their votes, sources cautioned there is still plenty of time for movement in the notoriously fluid race, with ongoing meetings between the county leaders.
The news of Mr. Seddio's shift, which was first reported by Crain's New York Business, came shortly after another candidate, Councilman Jumaane Williams, formally dropped out of the race and publicly put his support behind Ms. Mark-Viverito. "I am please to announce that I am pulling out and supporting my colleague @MMViverito for speaker," he said via Twitter.
The progressive caucus, of which both Mr. Williams and Ms.Mark-Viverito are a part, had vowed to vote as a bloc–creating a counter-weight to the county leaders who usually rule the race.
After months on the sidelines, Mr. de Blasio suddenly jumped into the backroom contest this week, personally calling council members and urging them to back Mr. Mark-Viverito, one of his earliest endorsers, sources said. The move enraged the county chairs of Queens, Brooklyn and the Bronx, who had expected Mr. de Blasio–a former councilman–to largely stay out of the race.
By last night, the three county leaders had coalesced around Manhattan Councilman Dan Garodnick–with some openly boasting he had it in the bag.
A source close to Mr. Garodnick was more cautious, telling Politicker, "Councilmembers supporting Dan are excited by the broadening of his five-borough coalition." But by this morning things had changed, as Mr. Seddio broke ranks.
The members won't cast their votes until January 8, leaving plenty of time for re-alignments. And support for Mr. Garodnick's candidacy remains.
"There are many good candidates, but Dan is best positioned to unite us behind Bill's progressive agenda and ensure that the Council is an equal partner in government," Councilman Rory Lancman, an ally of the Queens County Democratic Party, told Politicker.
Another speaker candidate, Mark Weprin, also an ally of the Queens organization, indicated to the Daily News today he would drop out of the race and support Mr. Garodnick's bid as well.