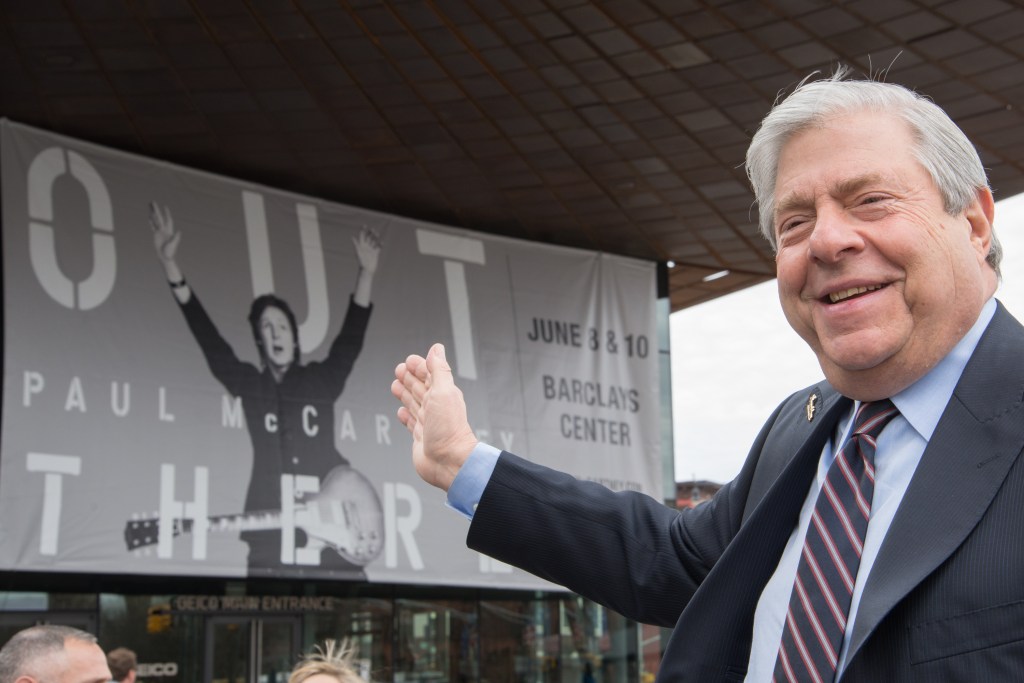 Marty Markowitz first knew he wanted to become Brooklyn's borough president when he was in his teens. But if it hadn't been for an event that threatened to kill his political career long before he ran, he may have never have achieved that dream.
The year was 1982. Mr. Markowitz, a former tenants' organizer, had spent four years representing a slice of Brooklyn in the New York State Senate only to see his former district diced up during a round of redistricting. To stay on the job, he needed to win re-election in a new, overwhelmingly African-American and Caribbean seat.
"I must tell you that when I was reapportioned, for a few minutes, I was not a happy camper … I was like shell-shocked," Mr. Markowitz recalled, speaking to Politicker earlier this month at his office in Brooklyn Borough Hall. "But it turned out to be a blessing for me. Had that never happened … I don't think I would have ever become Brooklyn borough president."
Mr. Markowitz said the entire local political establishment had opposed his candidacy. The name "Markowitz" wasn't a great fit for the district, needless to say. "My opponent kept on saying, 'The white candidate, the white candidate, the white candidate.' I would get up and say, 'Good evening, I'm Marty Markowitz. I'm the white candidate," he continued.
He ended up with a decisive win. "It turned out that, of all of my constituents–of every ethnic group that I've been honored to serve–I would say I probably index the highest among African and Caribbean-Americans," he said.
He would go on to unsuccessfully seek the Brooklyn borough presidency in 1985 before claiming it in 2001, using his popularity to top two opponents, one of whom was African American and backed by the county's Democratic establishment.
Since then, he's become the ubiquitous face of Brooklyn–aassociated with the borough as former Mayor Ed Koch was with New York. After the 2003 blackout, Mr. Markowitz welcomed thousands of commuters walking home over the Brooklyn Bridge, yelling into a megaphone, "Welcome home, Brooklyn, everything's going to be alright." He hosted annual music concerts, boosted development projects (including the controversial Barclay's arena that will soon host both basketball and ice hockey teams) and appeared at seemingly every ribbon cutting in the borough. Random businesses across its neighborhoods–for example, a South Asian restaurant in Crown Heights–proudly boast his proclamation on their walls.
Even his office–which he described as a "combination of museum of Brooklyn and toy factory," filled with tchotchkes ranging from teddy bears to Brooklyn Nets T-shirts–is overloaded with Brooklyn.
"I look upon public service [as] not merely introducing a bill in Albany but offering a full array of everything. Whatever I could throw. So whether it's events, whether it's concerts, whether it's communications, whether it's going to everything they do: every graduation, every gathering of civic and community organizations," Mr. Markowitz said, reflecting on his style.
Mr. Markowitz is doing a lot of legacy thinking these days. At 68 years old and with three-and-a-half decades of elected service under his belt, he's set to suddenly be unemployed come the end of the month. And in the meantime, he seems to be trying hard to defend his brand.
He seemed to take issue, for instance, with his recent New York Times exit interview, although he never said so explicitly. "I believe too many reporters no longer present the news in a balanced way … For instance, you should never say, in my opinion: 'Marty Markowitz, rotund; Marty Markowitz, jokester; Marty Markowitz–whatever words they use,'" he argued, among other criticisms.
Mr. Markowitz, unprompted, also repeatedly addressed his staunchest opponents. "Listen, just like not everyone loves you in your family–or you love everyone in your family–not every voter, constituent, is going to love me. There are people who, frankly, despise me," he offered at one point. He cited the Atlantic Yards development–still intensely controversial thanks to unfulfilled promises of affordable housing–and bicycle lanes, where his opposition to a Prospect Park West lane drew heavy fire from transit advocates.
"They don't like my stance about Atlantic Yards, although I'm very happy that they're buying tickets and enjoying themselves. So that says it all, by the way. They don't like my stance about bicycles, that I have the audacity to raise an issue about bicycle lanes. Because when people are zealous, if you're against everything they believe in, you're an enemy. And it's sad that it's that way, that we don't have room today to disagree agreeably," he said of his haters.
"You can't be loved by everyone. No way possible!" he later exclaimed, adding–somewhat questionably–that "only Mohammed, Jesus and Moses can be loved by everyone."
As to what he's doing next, Mr. Markowitz plans to stay in public service but is keeping his options open, floating the idea of becoming a New York City "ambassador" in the de Blasio administration, "something in higher education" or "advocating for greater tourism outside of Manhattan." "I think I would be a natural, being the ultimate borough-outside-of-Manhattan person," he argued. "But you know what? Que sera, sera. What will be will be. We'll see."
Despite his reported interest in running for Congresswoman Yvette Clarke's seat last year, however, Mr. Markowitz said he believed it would take him too long to build seniority to begin a career as a freshman in Washington at his age. "The travel back-and-forth between Washington and Brooklyn," he added. "I can't go anywhere without my bird. There's a place in Manhattan that we board him; … it's pretty costly. Forget it! Listen, I was a legislator. Those days are over. Finished!"
For now, his memorabilia-filled office will be cleaned for his replacement, Eric Adams, who has vowed to take a more serious and policy-oriented approach to the relatively powerless borough president position. Only the mezuzahs will remain.
"To me the highest honor is not the awards and trinkets and everything," Mr. Markowitz said. "When President Obama visited Brooklyn a few weeks ago … there were literally thousands of folks–overwhelmingly African-American–on Albany Avenue waiting for him to come. When I first started walking down, I heard cheers, yelling, screaming and I looked around to see if it was Obama behind me, and it turns out they were yelling for me … That is the most meaningful thing to me. So I feel like I've done my job. I've done my job. I gave it everything I had."