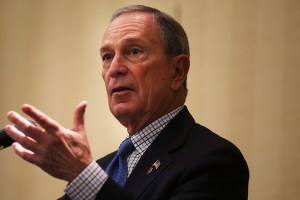 While Gov. Andrew Cuomo and local officials rushed to the scene of yesterday's fatal train derailment in the Bronx, Mayor Michael Bloomberg was golfing in Bermuda, a report today alleges.
According to the Wall Street Journal, the mayor was spotted playing golf in the island nation Sunday morning and did not leave until roughly 1 p.m. local time. The Metro-North Railroad train derailment, which killed four people, occurred around 7:20 a.m.
Mr. Bloomberg's spokesman repeatedly refused to disclose the mayor's whereabouts yesterday, describing a 4:30 p.m. briefing attended by the governor and National Transportation Safety Board as the "NTSB's show." Visiting a nearby hospital about twelve hours after the derailment, Mr. Bloomberg insisted there would have been little for him to contribute to the emergency response.
"What can I do?" Mr. Bloomberg asked, according to the Daily News. "Nothing I can do. All I can do is make sure that the right people from New York City, our police commissioner, our fire commissioner and emergency management commissioner are there." Metro-North trains are run by the MTA, a state agency, so it was proper for Mr. Cuomo to take a lead, Mr. Bloomberg's office also said.
That the mayor was in Bermuda over a holiday weekend was not a surprise; Mr. Bloomberg is believed to frequently take weekend trips to the island and famously faced criticism for being out of town during the run-up to the 2010 blizzard that paralyzed much of the city.
Mayor-elect Bill de Blasio also did not visit the scene of the accident, but was in the city at the time, a source told Politicker. Mr. Bloomberg's absence may have contributed to Mr. de Blasio's decision to stay away, the source suggested.