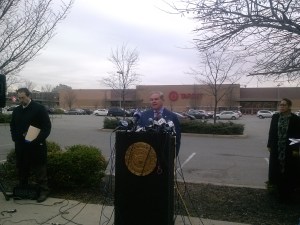 JERSEY CITY – Standing in front of a local Target store, U.S. Sen. Bob Menendez (D-NJ) today said he wants a full briefing by the Federal Trade Commission (FTC) regarding last week's security breach at Target Corporation retail stores.
"Our country's consumers depend upon safe and secure transactions, and especially at this crucial time of year, our country's retailers must commit to fulfilling that expectation," Menendez said in a letter to FTC Chairwoman Edith Ramirez. "Unfortunately, these data breaches are becoming increasingly common."
Target said a data breach at its stores impacted 40 million credit and debit card accounts, compromising customers' names, card information and security codes.
The breach occurred between Nov. 27 and Dec. 15.
While assuring customers that it has resolved the breach, Target has not discussed how the hackers slipped past security.
"The 40 million compromised accounts represent one of the largest corporate security breaches in history, potentially exposing millions of people who shopped this holiday season to fradulent charges, identity theft, and other inexcusable hardships," said Menendez, a member of the Senate Committees on Banking, Housing and Urban Affairs and Finance.
Last Thursday, Menendez introduced the Prepaid Card Consumer Protection Act of 2013, aimed at reining in hidden fees and strengthening financial protections for consumers who use prepaid cards.
In his letter to Ramirez, Menendez wanted to know if she recommends any additional legwork on his end.
"When the parent company of TJ Maxx and Marshalls experienced a similarly large data breach in 2006, the FTC brought charges to hold the company accountable," the senator wrote. "…I write to ask whether the FTC needs additional legislative authority in order to ensure consumer protection and improve retail outlets' ability to protect consumers' sensitive data."