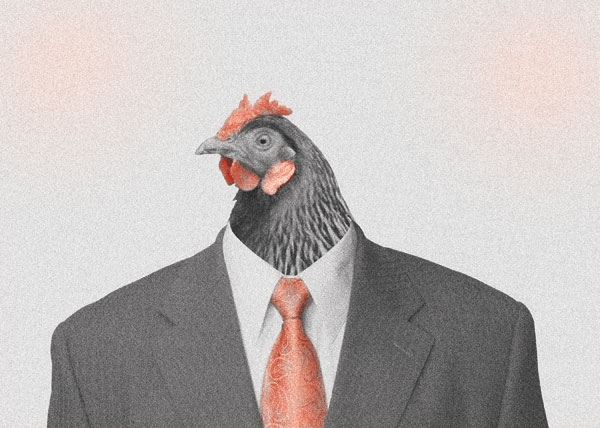 On Sept. 18, Robert Wildrick, chairman of men's apparel retailer Jos. A. Bank, called Douglas Ewert, CEO of Men's Wearhouse, and proposed an all-cash $2.3 billion takeover. Mr. Wildrick sent a formal offer via letter that same day. On Oct. 9, when news of the proposal leaked, the board of Men's Wearhouse formally rejected it, calling the $48-per-share offer "opportunistic" and "inadequate." 
It laid out a detailed plan of strategic initiatives that offered "a clear path to accelerating growth and profitability." It also voiced concern about possible antitrust issues. A merger, it reasoned, would create such a powerful entity in menswear that the Federal Trade Commission might not allow it. That last part was absurd on its face, but it's also de rigueur in merger rejections.
Offer made, offer rejected. We have seen this story before. (Except for one interesting wrinkle: Did you know that Deepak Chopra sits on the board of Men's Wearhouse? Neither did I.)
To make its feelings crystal clear, the Men's Wearhouse board also announced the adoption of a shareholder rights plan, otherwise known as a poison pill, to thwart its would-be acquirer from going hostile. As far as it would have us believe, its brightest future as of one month ago was one that didn't include a corporate marriage. It even went so far as to predict a nearly 50 percent increase in cash flow over the next three years alone. So why on Earth would it sell? "Because their 'plan' would have been better described as a best-case scenario," says Mark Montagna, a retail analyst at investment bank Avondale Partners. "And the likelihood of their achieving it in such a short time frame is quite low."
He's not kidding. The Men's Wearhouse standalone plan, for example, assumed 100 outlet store locations in five years. How many does it have today? Eight. It also assumed at least 4 percent same-store sales growth over the next three years, based on its five-year track record of 1.1 percent per year in its core and tuxedo segments. More to the point, its strategic plan was not a new one and was, therefore, reflected in the company's share price, which was well below the Jos. A. Bank offer. So the market didn't buy it either.
Why is that? Because, truth be told, neither of these companies has the brightest of future ahead of it. You'd think they'd have merged already. (As the man from Minnesota said, it's hard to believe they've lived so long and are still so far apart.) For starters, it's a mature industry—it's not as if a man looking for a suit doesn't already have dozens of options, from these two to department stores like Macy's and Saks, as well as already-respected brands making more recent incursions into the space—think J. Crew. It doesn't matter that some players have carved out their own particular niche (Jos. A. Bank on the higher-end of the spectrum, for example), because at this point, pretty much everybody competes on price—and when you're doing that, bigger tends to be better. That's when you can squeeze the most costs out of the system. These are not growth stories. They are cost-cutting stories.
 
ALL THAT SAID, no CEO is supposed to say out loud that his company's best days are behind it, and Mr. Wildrick did a fine job of dancing around the point when I spoke to him after the bid was rejected: "What we're looking to do is take best practices from both companies, put them together and end up with a spectacular company." His high praise of Men's Wearhouse aside, Mr. Wildrick knows that the primary benefits of a merger would come from cost-saving synergies. Men's Wearhouse, for example, pretty much owns the tuxedo rental market in this country and could put Jos. A. Bank's struggling tuxedo efforts on the map the day after the deal is done. For its part, Jos. A. Bank is widely regarded as having the best sourcing in the industry and could surely help Men's Wearhouse improve its own. These are the kinds of things that you do when you can no longer grow simply by opening a new store every day—Men's Wearhouse and Jos. A. Bank already have 1,760 locations between them.
In its go-it-alone plan, Men's Wearhouse touted its market-leading position in tuxedo rental, pointing out that it rents more than 3.1 million per year "to mostly millennial customers." But as much as it would like you to conclude that means it's hip to what today's kids are wearing, it mostly means that most millennials don't own a tuxedo. Its stated goal of "further attracting new millennial customers with on-trend modern products" is almost laughable in the context of the company's August acquisition of the Joseph Abboud brand and the hiring of Abboud himself as head of design. Men's Wearhouse calls Abboud "an iconic and modern American brand." Whether it's the first seems open for debate, but it couldn't be further from the second. "Abboud isn't exactly a fashion titan of today," says Mr. Montagna. "He is trending toward your father's Oldsmobile." 
But why pick on Men's Wearhouse alone? Jos. A. Bank faces its own challenges, including a customer base addicted to three-for-one sales and the fact that it sells "traditional" suits at a time when men's tastes, both in terms of style and customer experience, are changing. Consider me, Duff McDonald. As a lowly journalist, I've never been in the market for a $5,000 suit and, as a result, have rarely enjoyed the kind of personalized attention that such a purchase can bring. Enter SuitSupply, a sudden and existential threat to both retailers that sells truly contemporary style, lavish customer focus and a price point that is almost impossible to refuse. I walked into SuitSupply in Soho in August planning to buy one suit; I walked out having paid for three. (And no, it wasn't a three-for-one deal.) The chain has received accolades from Esquire, GQ, Vanity Fair, New York magazine, The Wall Street Journal and The New York Times in the past year. Pretty sure I saw a few millennials milling around during my one-hour fitting, too.

SO LET'S RETURN to the proposed merger. The way these things play out, it would have been surprising if Men's Wearhouse hadn't responded with feigned indignation, as least with respect to the amount offered. And that's exactly what it did, saying that the $2.3 billion bid would "deprive" its shareholders of the "intrinsic value of their investment." Yes, the offer represented a 42 percent premium to the price of Men's Wearhouse stock and a 17.8 percent premium to its five-year high. But when you're doing the M&A dance, your first move is to reject the overture, not jump into your would-be acquirer's arms.
Here's what was surprising: From the day the offer was made in September through two days before Thanksgiving, no one at Men's Wearhouse even bothered to discuss the possibility of a deal with Mr. Wildrick, despite an October announcement by Jos. A. Bank that it would be willing to consider increasing its offer if it could get someone on the phone. Not willing to twist in the wind, Jos. A. Bank withdrew its offer on Nov. 14, claiming that Men's Wearhouse had refused to engage in good-faith negotiations.
But who's that guy in the fancy pinstriped suit entering from stage right? That would be Ricky Sandler of $4.5 billion activist hedge fund Eminence Capital, who is currently the largest shareholder of Men's Wearhouse, with 4.7 million shares, or 9.8 percent of the total. Mr. Sandler thought the deal was a great idea and two weeks ago unveiled his own 21-page presentation trumpeting the merits of the combination. The Men's Wearhouse board said its refusal to discuss a merger had been in the interests of its shareholders. But its largest shareholder appeared to disagree—and vehemently so: According to Sander's calculations, a combination of the two would result in 69 percent upside through a combination of cost savings, revenue synergies and multiple expansion on the stock. So why on Earth wouldn't the board of Men's Wearhouse even sit down and talk about it?
Stupid question. Of all the risks the Men's Wearhouse board put forth in its rejection of the bid, the one that matters most is the one that it left out: the fact that both it and the company's top management would likely be out of a job in the event of a deal. Its adoption of a poison pill did suggest that it wasn't really receptive to any takeover, let alone this one. And then, lo-and-behold, it pretty much took it all back. On Nov. 26, it turned the tables on its would-be acquirer with an all-cash $55-per-share offer, which had Men's Wearhouse calling the shots and Jos. A. Bank on defense—and presumably, a pink slip for Mr. Wildrick should the deal go through. At first blush, it's an offer to take seriously: It came at an 8.7 percent premium to the closing price of Jos. A. Bank stock on Nov. 25 and 32 percent above the price it was trading at before the original offer became known in October. And here's the rub: The Jos. A. Bank offer would have required substantial additional leverage. This one requires none. Advantage Men's Wearhouse.
Mr. Wildrick, who went on a P.R. offensive when the original offer was rejected, is presumably wondering if he really should have said the following when Men's Wearhouse gave him the stiff arm: "I guess some people like their jobs more than they like their shareholders." By "some people," he was mostly referring to Doug Ewert. It was only this summer, after all, that Mr. Ewert wrested control of Men's Wearhouse away from its founder and peerless pitchman, George Zimmer, after 18 years with the company. You can see why he didn't want to give it away just three months later. So what about Mr. Wildrick? He talked the talk, but will he walk the walk?
Mr. Sandler, it seems, is going to be happy either way. In his presentation in support of the Jos. A. Bank offer, the man behind Eminence Capital accused the board of Men's Wearhouse of an "entrenchment" mindset and called for a special meeting of the company's shareholders on Feb. 14, 2014 to discuss bylaw amendments that would allow it to remove the board if it didn't start taking the offer seriously. Well, that happened. So now what? George Zimmer's legendary television commercials for Men's Wearhouse included the lines "You're going to like the way you look. I guarantee it." The title of the Eminence presentation: "You're Going to Like the Way This Looks." Mr. Ewert wanted us all to believe he didn't like it at all. But he did. He just wanted to be the one wearing the pants.