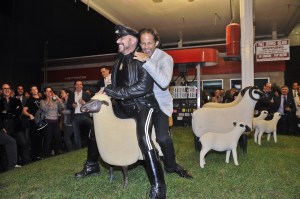 Michael Shvo, the irrepressibly showy boom-time broker who vanished in the wake of the financial crash only to return this spring as an equally flashy real estate developer is now (officially!) an art impresario. Art + Auction has named him to its Power 100 list, where he joins "a prominent group of power players who wield significant influence in the art world," among them Jeff Koons, Larry Gagosian, Oprah Winfrey and the Aquavella family, trumpets a release about Mr. Shvo's alleged art world coup.
We should have seen this coming when Mr. Shvo announced his triumphant return to the real estate scene with the purchase of "a priceless property located at the nexus of the art world"—a.k.a., a development site in West Chelsea that he paid a possibly over-priced $23.5 million for this August.
On the site would rise luxury condos, and not just any luxury condos, but "a new level of ultra-luxury residences" to be created by an "unparalleled group of creative talent," the self-identified art collector boasted. This was news to us and seemed kind of a weird thing to bring up in a release about a property sale, but soon it all made sense.
Without wasting any time, Mr. Shvo ordered up a truckload of conifers to surround the old Getty gas station like a mini forest, his first foray into development site as art installation. It was a hedge-fence! The first construction hedge-fence in the city!
But it soon became clear that the site called for something flashier, something artsier. Something pastoral. Something with fake sheep.
Mr. Shvo quickly took things to the next level—and who better to take things to the next level than the man who once ran 24-hour-a-day sales offices in case someone got the itch to buy a condo at 3 a.m. and created a lunar architectural lab to design residences for the moon?—using turf and 25 concrete sheep sculptures by Francois-Xavier Lalann to create a sheep's meadow, which swiftly became "a viral phenomenon throughout social media channels generating 330 million unique press impressions, 3,000 uploaded photos to #gettystation, including celebrity posts by Hugh Jackman, Bobby Flay and Alexander Wang."
It seemed like a clever marketing gimmick to us, but it apparently Art + Auction loved it: "The brassy real estate salesman has jumped back into the business after sitting out the last few years to focus, he has said, on collecting art," reads the slightly undermine-y write-up accompanying Mr. Shvo's smiling "power 100" face. "Now Shvo is turning to property development: He made his first move earlier this year with the purchase of the $23.5 million Getty gas station in Chelsea. He plans to build a luxury condo on the site, but first it hosted a flock of François-xavier Lalanne's sheep sculptures— many of them Shvo's own—standing placidly atop grassy hillocks."