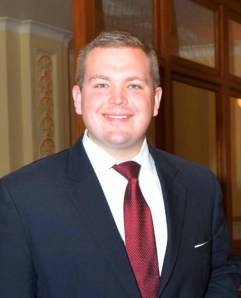 CAMDEN – William Moen, Jr. has been named to run the South Jersey office of U.S. Sen. Cory Booker (D – NJ).
Moen's official title will be Assistant Director of Constituent Services in charge of South Jersey, according to Mo Butler, Booker's New Jersey State Director. He will start work in his new position on Monday.
Moen most recently served as a legislative aide for Assemblyman Angel Fuentes (D-5), where he helped draft public policy initiatives, provided community outreach and performed other services for the legislators representing 19 Camden and Gloucester County towns, including Camden City. Prior to his work as a legislative aide, Moen served as communications director for the Fifth District Office. He also worked in various capacities in state, county and municipal campaigns in New Jersey, and interned for U.S. Rep. Robert E. Andrews (D-1) and state Senate President Stephen M. Sweeney (D-3).
A first-generation college graduate, Moen earned a Masters degree in Public Administration from the Fels School of Government at the University of Pennsylvania, as well as a Bachelors degree in Political Science from Rowan University in Glassboro, New Jersey. While at Penn, Bill and his EducaPhilly teammates were university finalists in the Penn Public Policy Challenge. The team conceived a plan to bridge the language gap between the School District of Philadelphia and the city's minority communities by creating a Spanish-speaking radio show targeting Hispanic parents of students — informing them of news, school policies and other useful information to help ensure their children's success.
Moen is also a member of the New Jersey chapter of the New Leaders Council, a non-profit organization that works to recruit, train and promote the next generation of progressive leaders.
Butler praised Moen's record of public service.
"We're excited to have someone of Bill's skill set and intellect join our staff and lead our efforts in South Jersey," Butler said.