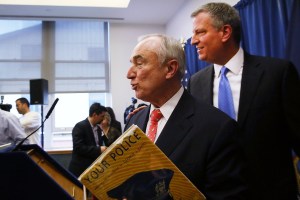 Headline of the Day: "Senator Chuck Schumer Lives Like a College Frat Boy."
Runner-Up: "Crimebuster Bratton made rotten Apple shine."
Bill de Blasio's pick of Bill Bratton to be his next police commissioner has warmed the hearts of some of his biggest public safety critics: tabloid editorial pages. The Daily News wrote it "inspires confidence that New Yorkers elected a law-and-order mayor after all," while the New York Post cheered the pick as "welcome news."
On that topic, New York magazine's Chris Smith writes Mr. Bratton "still clearly loves the spotlight, and he has warm relations with much of the city's press": "The mayor-elect didn't want to risk choosing an untested police commissioner — but he'll take his chances on competing with his top cop for headlines."
In an emotional interview, Councilman and speaker candidate Jumaane Williams discussed his personal view on abortion and same-sex marriage. "I personally believe the definition of marriage is between a male and a female, but that has nothing to do with my belief that government has to recognize everybody's relationships as equal," he said.
While indicted Councilman Dan Halloran's lawyer is arguing that it's not illegal trade cash for ballot access. "Payments in exchange for Wilson-Pakula are not bribery," said Vinoo Varghese, his attorney. "New York State has never prosecuted this as a criminal act."
And this is the best press release Politicker received yesterday:
FOR IMMEDIATE RELEASE:

THE SEDDIO FAMILY ANNOUNCES THE OPENING OF THEIR ANNUAL HOLIDAY DISPLAY FOR
SUNDAY, DECEMBER 8TH

The Seddio family today announced the unveiling of their Annual Holiday Display for Sunday, December 8th at 5 p.m., at the corner of Flatlands Avenue and East 93rd Street, in the Canarsie section of Brooklyn.

The magnificent collage of lights, animated figures and talking animatronics has been a Brooklyn tradition since 1963, attracting visitors from around the borough and the city.

Valued at over $350,000 the display includes over 500,000 lights, almost 100 animated dolls, a talking Christmas tree; a four foot parrot who sings, tells jokes and captures the hearts of all who hear him.

Each of the 8 display areas identifies a different holiday celebration – Santa's workshop, which includes 8 shiny reindeer, elves making toys, and Santa himself.

Standing guard over the entire display is a 15-foot Toy Soldier who oversees the Carousel of Reindeer ridden by its own army of toy soldiers — over 10 feet in diameter – circling the inner yard of the property.

Watch the SMURFS, as they ice skate across the front lawn with Papa Smurf and Smurfette as the star attractions, dancing to Holiday songs.

A visit with the Van Deer's enjoying Christmas Day is second only to Mickey and Minnie Mouse joined by a host of Disney characters decorating the Christmas tree, nicknamed "Stumpy," an eight-foot computer generated, animatronic tree which sings holiday songs and tells jokes.

In another section, a life size nativity features figures built into a crèche. In still another scene, children stand in front of the Winter Wizard listening to him recite the "Night before Christmas" as he moves and speaks his recital.

International and multi-cultural in flavor, vignettes also depict Chanukah and Kwanza celebrations.

Look for the 20-foot high Hot Air Balloon festooned with lights to guide you to the house or the 12-foot Ferris wheel, which circles the front lawn and includes Sesame Street characters.

This year's other new arrival is a flying Zeppelin that floats fifteen feet above the air for over 100 feet across the entire length of the side yard of the property

The Seddio display has been the subject of numerous television programs and has been featured in many magazines, newspapers and articles about the magic of the holidays.

The December 8th opening night features musical renditions by local groups as well as a live Santa, elves and a dozen costumed characters. This year choral renditions will be provided by the Public School 115 chorus and the choir of Mary Queen of Heaven. Christmas carols will be played on steel drums by "Pan Fusion" Steel Band. All are invited to the opening event.

Construction of the display is done solely with volunteers and typically takes the entire month of November to finish.

Frank Seddio, who is the chairman of the Brooklyn Democratic Party, is a lifelong Canarsie resident. He is a local attorney who has been active in numerous community organizations throughout his career.