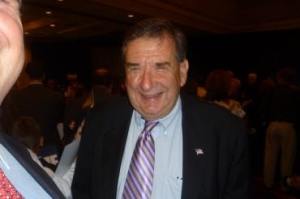 Republicans' inability to make significant gains in the Legislature when their top-of-the-ticket candidate sailed to re-election by more than 20 points appeared to embolden Democratic lawmakers.
The Assembly, where Democrats were confident they would maintain control of the lower chamber, all but voted on a new Democratic speaker even before New Jerseyans went to the polls in November. And in the Senate, the state's top lawmaker openly boasted after the election about how a GOP senator's failed campaign strategy would clear the way for Democratic gains in coming elections.
If Republicans could not make gains with Gov. Chris Christie at the helm, Democrats are poised "to work aggressively to pick up more seats" in the coming elections and ultimately "win," according to Senate President Steve Sweeney.
However, with the recent election in the books, Republican state lawmakers say they're less than convinced New Jersey is a lock for Democrats.
"The fact of the matter is that they used all their resources in those legislative races," said Assembly Minority Leader Jon Bramnick (R-21), highlighting the disproportionate amount of money that went into legislative district races for Democrats instead of the gubernatorial campaign.
Of course, the surge of independent expenditure spending in the statewide election is well document (click here and here), but Bramnick argues the outcome of a statewide race could be different if Democrats are forced to shift that money from the local races to the top-ticket race.
He argues the critical piece overlooked in the recent election is how little Democrats focused on their gubernatorial candidate and how much they invested in the down ballot races.
The spending disparity is almost certainly subject to change in the next gubernatorial race, argued Bramnick, who in a recent op-ed wrote "Democrats and certain reporters are already anointing Sweeney or [Jersey City Mayor Steve] Fulop as the next governor."
Not so fast, he says.
"Yeah, we didn't pick up seats," said Bramnick. "But, they put all of their resources against us."
According to Bramnick's estimates, Democratic-backed IE spending more than doubled Republican expenditures, roughly some $25 million to the GOP's $10 million (estimates which are likely to change once final election spending is reported this month).
How do the dynamics shift? Asks Bramnick.
"Politics change," he said. "A gubernatorial race could suck in $15 million or $20 million of that."
As far as Republicans are concerned, says Senate Minority Leader Tom Kean Jr., the state's GOP senators are in good standing moving forward, which will allow Republicans to focus their attention on gaining seats – instead of playing defense.
"Statewide, the Republican Senate candidates won 52 percent of the vote," Kean said. "In this past cycle, every single one of my Republican incumbents won with over 10,000 votes in their districts, so the entire weight of where everybody is going to be focusing four years from now is on, again, those [Democratic districts]."
Unfortunately, not all Republican lawmakers share the minority leaders' level of optimism, including longtime Sen. Gerald Cardinale (R-39).
"There's been all this talk of coattails or the map, and it's the map. It's obviously the map," Cardinale said.
"The Democrats are going to control the Legislature almost no matter what we do because of the way the map was drawn," he said. "Given the circumstances of the map, if [residents] want to be protected from the excesses of the emboldened Democrats in the Legislature they have to elect another Republican governor and that then, hopefully, we'll have a different map eight years from now so that maybe it is fair."