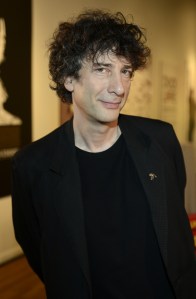 If you were just listening to him, you might confuse author Neil Gaiman for Alan Rickman, or Benedict Cumberbatch: all three Brits have very deep, slightly nasal and unquestioning authoritative voices that we associate with professors, wizards and Sherlock Holmes. So even though by trade Mr. Gaiman is more well-known for his writing–epic graphic novels like The Sandman, fantasy staples like American Gods and Stardust and Coraline— when Mr. Gaiman decides its time to start talking, everyone else shuts up.
He even managed to make the crowd at the New York Public Library fall silent for over an hour on Sunday to hear him read A Christmas Carol, from a special copy that Charles Dickens had edited himself for live performances, and which were rediscovered by Molly Oldfield in her recent book The Secret Museum, which she spoke about after Mr. Gaiman took off his top hat. (He also wore a fake Dickensian beard throughout to help get into character, which is real commitment.) Which, considering how many children were in the audience, was a miracle on par with Scrooge's change of heart.
"It's a wonderful time to tell stories about the dead," Mr. Gaiman told The Observer earlier that morning over breakfast. He was referring, obviously, to Christmas. "You've got winter. You got the depths of winter. You have the whole peddling around a fireside thing. You have long nights."
Still, it seems an incongruous pairing: ghosts and the happy holidays. "What Dickens did that was so interesting was that he took the ghost story, Christmas ghost stories, as a genre, and he wrote a couple really good ones for his magazine," Mr. Gaiman said.
Of course, A Christmas Carol is so a part of our holidays at this point, we barely remember it's more morbid aspect. "It's like people who read Tolkien now and complain that he uses all the cliches from fantasy novels," he laughed. "With Dickens and A Christmas Carol, everybody's now encountered that story a hundred different ways, maybe Scrooged, maybe A Muppet Christmas Carol, that by the time you get to Dickens you're like 'Oh my god, that's the cliche." 
Speaking of cliches, we wanted Mr. Gaiman, the definitive source on imaginary beings if there ever was one, to help settle a debate for us…
"Yes, Santa Claus is white," said Neil Gaiman. "So is the Easter Bunny. The Easter Bunny is definitely white." So there you have it.
"It's so funny, and so, so, so stupid," he said of Fox News host Megyn Kelly's controversial statements earlier last week. "My favorite line of any article in any newspaper in the past month was something I read last week about how angry the people in a town were, in England, because a vicar had given a sermon about how Santa Claus was based on a real person named St. Nick. And the townsfolk were incensed that the vicar had told the kids that Santa basically didn't exist. And there was this beautiful line where this woman was quoted as saying something like, 'I don't go into his church and tell people that Jesus doesn't exist.'"
As for upcoming projects, Mr. Gaiman revealed to The Observer that the American Gods TV adaptation "seems to be happening," though not with HBO, which officially parted with the project last month. A new Neverwhere story, How the Marquis Got His Coat Back, is slated for next September in the  Gardner Dozois and George RR Martin anthology, ROGUES.
And as yet, he has no plans to make another album with wife Amanda Palmer. "We like being the people we come home to," he said. "The problem with working on something together is that you can't go home and go, 'God she's an idiot.' And really that's the best bit about being married."
Still, Mr. Gaiman admits the attraction of merging his feudal fandom with the former Dresden Doll. "Doing An Evening With Neil Gaiman and Amanda Palmer, it was like a wedding where people have to decide which side to sit on," he said. "My hope is that would meet, and fall in love, and breed."
"Just think, a whole new generation of people with weird hair and strange eyebrows."