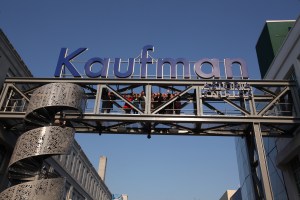 As New York City's streets play the backdrop in an ever increasing number of TV shows and movies, the tension between film crews and local residents has occasionally erupted into melees and/or the posting of passive aggressive notes. Things are so bad in some picturesque quarters of the the city that New York even has a "take five" program to give film-burdened blocks a temporary break.
But a new backlot at Astoria's Kaufman Studios—the city's first—should take some of the pressure off the streets, supplementing the burgeoning facilities at Steiner and Silvercup studios.
"The Backlot is an exciting new development for the film and television industry in New York as well as for this area of Astoria," said Kaufman Astoria president Hal Rosenbluth in a release about the opening. "It will draw more world-class productions to New York and gives these productions much needed outdoor space to create temporary sets that can stay up for as long as they need to shoot."
The 34,800-square-foot backlot is designed to allow productions to shoot outside in a controlled environment, with a streetscape and the space to construct temporary outdoor sets. It also has a 40-foot-tall steel truss above it that serves as a working catwalk.
"From Rudolph Valentino to Big Bird and Grover, Astoria has played an important role in New York City's production industry," said Commissioner Katherine Oliver, Mayor's Office of Media and Entertainment in a statement about the opening. "Kaufman Astoria Studios' new Backlot further enhances New York City's reputation as a thriving center of production and will help attract even more films and television series to the City."
Kaufman, which has more than doubled in recent years and now boasts 12 acres with seven stages, is not the only film campus rapidly expanding its footprint with the assistance of city and state funding. Last month, the city and the state announced that it was planning to chip in $22.6 million for Doug Steiner's $137 million plan to convert a 20-acre hospital annex into a hub for film, media and tech companies. 
With any luck, the residents of Dumbo and Fort Greene may finally be able to park in their impossibly quaint neighborhoods again.