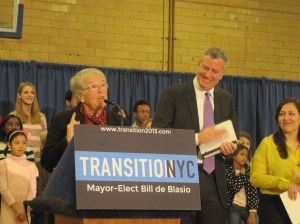 Incoming Schools Chancellor Carmen Fariña sketched out her vision for improving the city's public schools today, promising far more communication with parents and more fun in the classroom for city kids.
Ms. Fariña, a 40-year veteran of city schools who has advised Mayor-elect Bill de Blasio since he served on a new-defunct local school board, is often described as "an educator's educator," and has held nearly every position in the city's sprawling school system, including teacher, principal and deputy chancellor.
At the press conference announcing her hire, Ms. Fariña committed herself to changing  the school atmosphere–both for principals and for kids–promising better teacher training and professional development while vowing to make schools more celebratory.
"Fun is good and fun makes better things happen," she said.
There had been much speculation about whether Ms. Fariña, 70, would want to leave retirement to take on one of the most taxing jobs in city government or whether she might take it on on an interim basis. But while she joked about wondering whether "giving up all those sunny days in Florida was worth it," Ms. Fariña said that, after being convinced to take the job by her grandson, Charlie, a fourth grader, she's in it for the long haul.
"I don't do anything half-way. If I take a job, I take a job," she vowed. "And the reality is that if you're going to take a job with this much responsibly, you're going to want to hire people. And no one's going to work for someone who's just temporarily there. So my commitment is total."
Ms. Fariña emphasized the need to treat parents as partners, not adversaries–a frequent critique of the outgoing Bloomberg administration. She said one of her first acts as chancellor would be to immediately restructure the Department of Education's parent engagement division, which will report directly to her come Monday. 
She also addressed another criticism of the Bloomberg administration: an over-reliance on standardized testing. "A test is not an isolated bugaboo," she said, arguing that good teaching is best preparation for any tests.
Still, a host of specifics remain up in the air. Notably, it's unclear what will happen with schools currently in the pipeline for closure because of poor performance, or how the the de Blasio administration will treat charter schools–which were not mentioned once during an hour-and-a-half long press conference. (The event went on so long that one of the bored-looking students fell off the podium behind Mr. de Blasio. A de Blasio spokeswoman said the student was fine.)
"I think at his time, you need to give me a couple days to sit down with Bill," Ms. Fariña said in response to a question about school co-locations, noting that her new job doesn't technically start until January 1.
Mr. de Blasio also defended the timing of his decision, which comes less than 48 hours before he officially takes charge of the city and its 1.2 million public school students in the middle of a school-year.
"To me, this is literally one of the most important decisions I'll ever make as mayor and one of the most personal," he said describing the job as "one of the most sacred missions that exists" in government.
"So I had to be 100 percent certain that not only was there the talent and the spirit and the temperament, but also the philosophy," he said. "Every time I looked at different people and different options, I kept coming back to Carmen Fariña. So it was a long and deliberative process and it got us to the right place. I'm absolutely convinced Carmen Fariña is the right person to lead the system."