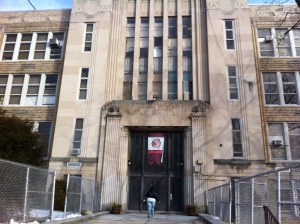 NEWARK – On Friday in Brick City, South Ward Councilman and Newark mayoral candidate Ras Baraka threw a verbal brick through the city's educational policy window.
"Ultimately the state-appointed superintendent and the governor have a plan to dismantle public education in Newark," said Baraka, as reported by PolitickerNJ.com, in response to efforts of the Gov. Chris Christie-backed Newark Schools Superintendent Cami Anderson as she tries to implement the controversial One Newark Portfolio Plan.
"We're asking that the state-appointed superintendent and that the governor of this state rethink some of these things they are doing," Baraka added. "Come and speak to the community for real and allow us to have input in what's going on. We want them to slow down. We want them to stop. I don't think this is going to work and I don't think the community buys into it."
Proposals of the plan that surfaced this week reportedly include the shutting-down or alteration of dozens of schools throughout the city in an attempt to reform and realign the Newark Public Schools System. Part of those plans includes the replacement of public schools with charter schools.
Matthew Frankel, spokesman for the Superintendent's Office, said the plan attempts to deal with difficult issues facing Newark's public schools.
"The vision for One Newark is to ensure 100 excellent schools and thriving communities in every ward," Frankel said. "To achieve this vision, we must have courage to address tough realities – including historic under-performance and crumbling buildings that have families actively seeking other options. Forty percent of South Ward families applied to charters last year and students are leaving comprehensive high schools in droves. The One Newark plan does not add new charter seats or close comprehensive high schools, rather it preserves traditions and history while bringing the excellent options families are demanding to all neighborhoods."
Contacted for comment, Mike Drewniak, spokesman for Christie, called Baraka's comments, "Ridiculous."
The three other candidates in the race to run New Jersey's largest city commented on the questions presented by the proposed changes.
"Superintendent Anderson's plan lays out the problems facing our public schools. It's a fact that we face declining enrollment because parents have exercised their options to enroll their children in charter schools," said North Ward Councilman Anibal Ramos, Jr.. "In the South Ward alone, 40 percent of the students are enrolled in charter schools and in three years, 36 percent of students across the city will be enrolled in charters.
"It's clear that the district can't keep operating as it has been," Ramos continued. "Some of what the superintendent proposes may have merit, but absent community engagement, the plan lacks legitimacy. I encourage the superintendent to meet with and really listen to what parents, teachers, students and other stakeholders are saying and incorporate their input into a final plan that the community can rally behind. No plan is going to be embraced unless and until Newark stakeholders have been brought into the process of crafting it.
"I would encourage Superintendent Anderson to start with the stakeholders at Weequahic High School, which has a special place in our city's history," Ramos added. "Weequahic is part of the fabric of Newark much like the Newark Museum, the Newark Public Library and the Cathedral Basilica. Not only that, this year it had a winning football team that made it to the state finals. Both the Weequahic and Shabazz football teams gave our residents something to cheer for this fall. Our residents are understandably upset and angry. We need to find away to improve the quality of education at Weequahic and make it an attractive option once again for residents of the South Ward."
Central Ward Councilman Darrin Sharif agreed with a key element of Baraka's statement about the situation in the Newark school system, which was taken over by the state in 1995.
"I would have been all over having a listening tour [with Superintendent Anderson] and talk to all of the important stakeholders in the community," Sharif said. "Whatever position you take, our schools are in trouble. I've been looking at a document produced after the 1967 riots. In February 1968, the person who was the superintendent of schools said 'Our public schools are in an advanced state of decay.' Things did not get better. They just got worse.
"Now that things are at a feverish pitch, I think the superintendent has an obligation to come before the community to explain what is going on," Sharif added. "I would even host her. Let both sides engage each other. I don't think that you'll find anybody who doesn't agree that our public schools have to be reformed. The question is about the approach to take."
The campaign of former Assistant Attorney General and former Newark Public Schools Advisory Board member Shavar Jeffries also said that their candidate was looking into the proposed schools plan.
"Shavar will be meeting with Superintendent Anderson to obtain a full briefing," said Jeffries campaign spokeswoman Lupe Todd. "He will issue his thoughts after the meeting and after examining the plan. Shavar has always maintained that school closure for performance reasons should be an absolute last resort and implemented only after sustained community engagement."