Evelyn Benatar and her shih tzu dog Honey attends the Cornelia Guest book signing.
dgrantobserver
A sampling of the food served at the party...though, we were told, not all of the dishes were vegan.
dgrantobserver
Marko Matijas, Cornelia Guest and chef Colin C. Shanley pose for photos at the Cornelia Guest book signing.
dgrantobserver
Conversation we overheard while Ms. Guest was giving a fan an autographed copy. Woman: I went to your mother's book signing earlier this year! Ms. Guest: My mother? Woman (Confused now): Your mother was C.Z.? I went to her book signing! Oh gosh, I can't remember the name of it... Ms. Guest: Earlier this year? Woman: Yes. Ms. Guest: But my mother died in 2003. Woman: Oh, well maybe it was a book about her.
dgrantobserver
(All photos by Astrid Stawiarz)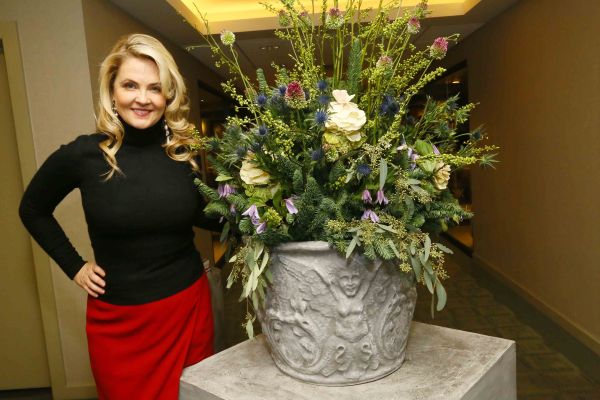 "I don't know what a socialite means today," said Cornelia Guest, the world's first celebutante. "It used to mean someone who is doing philanthropy—these women who were in society to do charity. But who knows what it means right now."
Ms. Guest, the 50-year-old daughter of C.Z. Guest, was in her Fifth Avenue apartment, where she was showing us a collection of truffles. She would be serving them in little risotto balls, later in the evening, on the fourth floor of the New York Design Center. That was also where she would be signing her vegan cookbook, Simple Pleasures, on the eve of its one-year anniversary. In the meantime, we were just sitting around her literally gilded living room, checking out her mushrooms and her wall full of Warhols and Wards. One picture in particular caught our eye: Ms. Guest, in the buff for PETA.
"I don't think the term scandalous really applies anymore," Ms. Guest, an avid animal lover, told the Transom. "I mean, what is scandalous?"
The murder of animals, we asked?
"If you want to raise your own pig and kill it, fine, to each their own," she replied. "But I think there are ways of doing things. Like on the hunt, when people go hunting, they used to pray to the spirits of the animals."
Ms. Guest, who as a young woman danced with Truman Capote at her coming-out ball, has charted a career her more socially conservative parents would have never imagined for her, by which we mean: She actually has a job.
"It was odd, at first, being on the other side of serving," she said of her catering company, Cornelia Guest Catering. While getting her fledgling business off the ground, she found herself coming up with menus for old friends. In an infamous anecdote, she was trying out some new dishes on an older society matron. "The woman said, 'I can't have turkey pot pie. It's like poor people food.'" Ms. Guest replied, "Well, that's why you hired me!'" (Now the tempeh pot pie is one of her company's most well-received dishes.)
There are certain things Ms. Guest refuses to make, like veal or baby lamb. "We source everything we cook; we try to get it local or out on Long Island. I am very careful where we get foodstuff; we try to shop a lot out of the farmer's markets in Union Square," said Ms. Guest, who serves on the board of GrowNYC. She also just launched her own line of handbags and accessories–they're going to be sold at Macy's and Bloomies, so get in line–which she came up with after not being able to find a suitable, cruelty-free alternative to leather.
But back to the socialite stuff: "I don't know where that is anymore. It seems that word is used a tremendous amount. The media landscape has changed everything so much. You know, before, we just had papers. You used to just have the social column, but now you go on the Internet, and you see 500 sites. There are hundreds. TMZ, Perez Hilton, New York Social Diary."
So has that changed what it means to be "society" in New York?
"Well, who knows what it means to be society?" she countered, definitions clearly posing a problem here. "There are all these little pockets of society. You can have the art society, the Downtown society, the uptown society. There's a fashion society; there's a philanthropist society. There's a social society. That's really what's so amazing about it!"