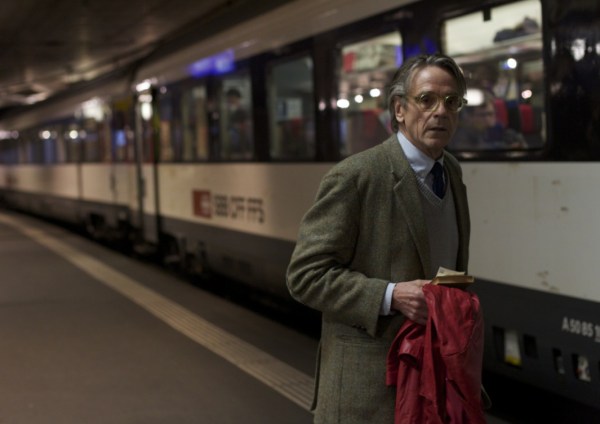 It never ceases to amaze me how many people manage to waste money producing movies so bland, empty and pretentious that nobody will ever see them. Don't they read the scripts before they sign the checks? We've had several this year. Now here's another. Night Train to Lisbon sounds enticing—like one of those dark flicks about Cold War spies in East Berlin with Richard Burton or William Holden. Check your enthusiasm at the door. It's an independent co-production from Germany, Switzerland and Portugal (the worst kind, if you ask me) about a schoolteacher in Bern, Switzerland, named Raimund Gregorius (Jeremy Irons), a voyeur of life but never a participant in it. Are you fascinated enough by this news to continue?
One wet, dreary winter morning on the way to class, Raimund rescues a girl in a red coat from jumping off a bridge. When she runs away, he finds a philosophy book written by the late doctor-philosopher Amadeo de Prado (Jack Huston) and a train ticket to Portugal in her pocket and walks out on his home, job and life to follow her all the way to Lisbon to return her raincoat. Mesmerized by the book she was reading, he arrives in Lisbon—where everyone miraculously speaks perfect English—without money or extra clothes and wanders the streets searching for the address of the mysterious author of the book, quoting lines from the Portuguese cracker barrel such as "when dictatorship is a fact, revolution is a duty" and intimacy is our last sanctuary."
The clues to solving the mystery of the philosophy book (and the point of the movie?) lead to painful memories of the author's life in the underground resistance movement during the fascist regime of Salazar, related by a deadly all-star cast of international faces. There's Amadeo's pinch-faced sister and co-conspirator, Adriana (Charlotte Rampling); his old colleague Joao, a pianist whose hands were broken by the secret police (now an aging Tom Courtenay); his schoolmate Jorge (now a grizzled Bruno Ganz), his best friend from the lower classes and rival in romantic affection for the passionate revolutionary Estefania (young Mélanie Laurent and old Lina Olin), who dumped them both; and Father Bartolomeu, the ancient Catholic priest who inspired them all, played by—are you ready?—none other than Christopher Lee, without his Dracula fangs.
Night Train to Lisbon is too long (almost two hours) and too confusing, with too many characters to keep up with, played in the present and in flashbacks, by different actors of two different ages—all of them boring. It's a slow, ponderous film, directed at a snail's pace by Bille August and punctuated by pompous exchanges like the following:
He: "Fields are greener in their description than in their greenness."
She: "Someone said that's a beautiful description."
He: "Yes, but only a very few people will understand it."
Sounds like a description of the film itself.
NIGHT TRAIN TO LISBON
WRITTEN BY Greg Latter and Ulrich Herrmann
DIRECTED BY Bille August
STARRING Jeremy Irons, Mélanie Laurent and Jack Huston
RUNNING TIME 111 min.
RATING 2/4