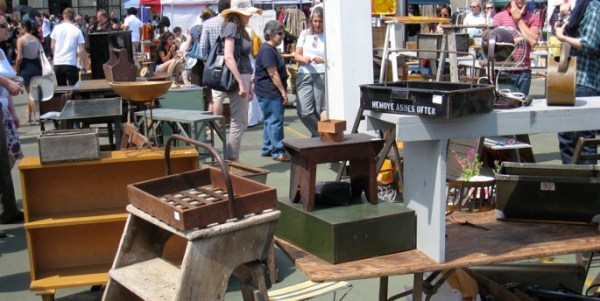 Hipsters will now have to head a few blocks south to score Grandma afghans and vintage horn-rimmed glasses at the Brooklyn Flea.
After a litany of neighborhood complaints, the vintage market is moving for the winter, relocating from its waterfront location to a warehouse on 80 N. Fifth Street as it searches for a permanent outdoor space for next year's "outdoor season," according to Flea co-founder Jonathan Butler.
Previously, the Flea took place on Sundays at East River State Park. Smorgasburg, the Flea's all-food counterpart, takes place on Saturdays. Residents looking for their own slice of green space felt it was just too much.
"I won't use the park when the Flea is there," local writer Louisa Campbell lamented to DNA Info in March, adding that the market's popularity was "great for the Flea but bad for the park."
"It is a shame to lose East River State Park on the weekends," longtime resident Christine Murray said. "When are government officials gonna stand up for our open space?"
Bowing to their grievances, Brooklyn Flea co-founder Eric Demby said that despite its popularity, moving the Flea would preserve "the long-term future of Smorgasburg in the park on Saturdays," according to the site. The food fair will continue to set up shop in the park.
Long live the Flea.
CLARIFICATION: An earlier version of this story suggested that both The Flea and Smorgasburg were changing location; it has been updated to reflect that only the Flea is moving and that the move to its indoor space is temporary.