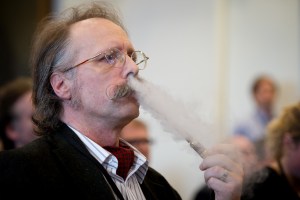 Last night, New York City Council passed, 43-8, a bill that would ban e-cigarettes in public places.
"Electronic cigarettes are an unregulated product that threaten to turn back the important gains we as a city have made in the last decade to de-normalize the act of smoking and to maintain a clean air environment to live, work, and play," Council member James Gennaro said after the legislation was approved by the Health Committee on Wednesday.
The growing demographic of vapers in New York were not pleased.

Since e-cigarettes do not burn and produce only water vapor, their advocates claim that they are not harmful second-hand. Olivia Nuzzi, from The Daily Beast, went down to City Hall last night to see the vapers protesting and came across an interesting–but probably unsurprising–development: the movement had started to attract the attention of the all-mighty tobacco lobby.
A few feet away from Siegel, among the crowd of smoking cessation evangelists, a stern-looking man coughed violently. Those vaping glanced at him, concerned. Yes, he told me, he was a tobacco lobbyist. He asked me how I made such a good guess. And then refused to speak on the record.

The problem is, there isn't really any hard evidence that says nicotine vapor doesn't have the same effect as smoke.
Dispassionately observing from the far corner of the chamber balcony stood still more lobbyists. They favored the ban, and they told me Big Tobacco was part of the reason they were present. Robin Vitale of the American Heart Association explained "Big Tobacco is playing in field. Every major tobacco company now has their own e-cigarette that they're manufacturing and selling." She showed me a chart with multi-billion dollar projected revenues for large tobacco companies selling e-cigarettes in the next ten years. "This is not just the mom and pop shops. This is about Big Tobacco in many ways."
One issue that vapers have had in the past, at least image-wise, is that they've been seen as the less-cool brother of cigarettes; something older people use to stop smoking, and holds none of the appeal or dangerous glamour that a Marlboro does for a 17-year-old.
With lobbyists beginning to scout out potential new markets and looking for weak spots in city and state legislature, we're only going to see more and more marketing of e-cigarettes as the hip new thing. (Watch out for a gazillion more trend stories in 2014!) And what before may have been a tiny, fringe movement has just been changed into a full-fledged constitutional cause, thanks to the City Council's decision last night.
Let the games begin!