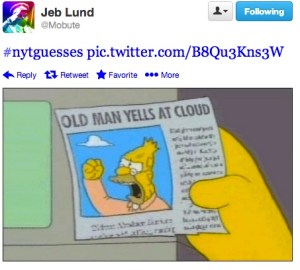 Update: Invisible Child has now gone live on the Times's website. Guess we don't have to wait till the morninng after all. Thanks Twitter/Buzzfeed!

Sunday is the worst time in the world for news junkies. Sure, they've got their analysis from Meet the Press, international half-truthsies from 60 Minutes and fake trend stories from The New York Times, topped off with a good dose of Charlie Rose-flavored methadone to keep the shakes away until you can get the real shit again Monday morning.
But enough chatter, it's time to give momma her 24/7 newscycle fix. Why toy with us, New York Times editor Carolyn Ryan? She must have known how desperate we were for real news when she tweeted at 7:59 p.m.
There's a very unusual, groundbreaking NYT story coming 2nite.I can't say too much but it'll make u rethink- well, I should stop.Stay tuned

— carolynryan (@carolynryan) December 9, 2013
Only to follow it up with:
What I mean is that it is a stunning story. And may change things

— carolynryan (@carolynryan) December 9, 2013
WHAAAAT! What is it?? Tell us!
The internet was like the NYT–that is to say, "on it"–as everyone scrambled to think of #NYTGUESSES of what this incredible scoop might be.
Some of the best guesses, below:

No one was carrying you. Those were just your footprints. #nytguesses

— pourmecoffee (@pourmecoffee) December 9, 2013
#nytguesses pic.twitter.com/B8Qu3Kns3W

— Jeb Lund (@Mobute) December 9, 2013
Even the Margaret Sullivan weighed in, which means she'll have to give herself a jeer in tomorrow's column.
Can't tell you how many #nytguesses I've just written and, in a unfortunate fit of good judgment, deleted.

— Margaret Sullivan (@Sulliview) December 9, 2013
God, we wish.
Tom Friedman met a taxi driver who said, "I don't know, man. I just drive a taxi." #nytguesses

— Daniel Radosh (@danielradosh) December 9, 2013
Monthly show at the Garden until print is dead RT @NickBaumann: So #nytguesses?

— erin mccann (@mccanner) December 9, 2013
But then it got worse: Half an hour after her original tweet, Ms. Ryan announced that she wouldn't be able to talk about the story until the morning and was going home to sulk watch Agent Brody.
Headsup:Now it sounds like it won't be up til after Homeland. Maybe not til a.m. I'm going home. All I'm saying is it's powerful. I like it.

— carolynryan (@carolynryan) December 9, 2013
But wait! The plot thickens: Andrew Kaczynski (obviously) was able to link a story from The Times News Service's raw budget on The Las Vegas Sun's website which had yet to be published by the Times, but could be the Ryan scoop:
Hmm http://t.co/PhRoi2V7M3 pic.twitter.com/K5E7VqCjxn

— Andrew Kaczynski (@BuzzFeedAndrew) December 9, 2013
`
It's about homelessness and poverty in Fort Greene through the eyes of one girl named Dasani, and according to New York Magazine (the article has since been taken down), it "really is a fantastic piece of journalism, and shines a light on a troubled shelter system that seems like it could use some changing in a big way."
The Observer was able to obtain a PDF of the first chapter in the original story series.
GIRL IN THE SHADOWS_ DASANI'S HOMELESS LIFE – Las Vegas Sun News
Too bad this mess has turned into yet another story whose content is overshadowed by the trendy item about how we process, receive, and disseminate the information of the content, (Homelessness is so less buzzy than hashtags)…and fuck if that isn't actually my entry to #NYTGuesses.