Snapchat's Staying Power
Despite being a picture-messaging app whose missives disappear in seconds, Snapchat made clear that it wants to stay on the tech scene for years to come.
Invented by fraternity brothers at Stanford University in 2011, the start-up is still profitless, but it hasn't lacked for buzz in 2013—or controversy. In February, Snapchat achieved the ultimate start-up status symbol by being embroiled in a lawsuit by a spurned frenemy named Reggie Brown. He claimed that founders Evan Spiegel and Bobby Murphy stole the idea from him, in a Social Network-esque lawsuit.
While the Los Angeles-based company remains cagey about the size of its user base and how many "snaps" people send per day, venture capital firms have continued pumping hundreds of millions of dollars into the start-up. And in October, the company spurned a $3 billion acquisition offer from Facebook, since it believes it can make a go of it independently. Imagine how embarrassing that homecoming weekend is going to be if they fail to do so.
Fab Flails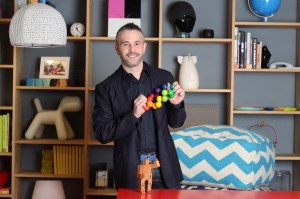 Fab is one tech company that truly proves the old adage "If at first you don't succeed, pivot, pivot again." (That's how the saying goes, right?)
The online retailer of pug T-shirts and neon ottomans experienced its third pivot this year, as it shifted away from being a flash sales site to being a design store, in the spirit of an Ikea-meets-Amazon hybrid. Under the direction of CEO Jason Goldberg, Fab's remodeling began with a redesigned website, a planned European expansion and its own line of customizable furniture.
Of course, that reinvention wouldn't have been complete without layoffs, office closures and high-profile departures. At its peak, Fab employed 700 workers, which will dwindle to half of that come February. And let's not forget that it's burning through $336 million in funding as it rights the ship. (A recent $150 million infusion should buoy the company, though).
In 2013, Fab also experienced a "refounding," a weird word to describe what was essentially a reshuffling of its management, while quietly announcing that some heavy hitters were leaving, including company co-founder Bradford Shellhammer. In November, he left his day-to-day role of designing to become a nonexecutive adviser.
Perhaps this latest pivot will be the company's last—third time's the charm?—but we're not holding our breath.
Gilt Unpacks Jetsetter
After several months of trying to sell Jetsetter, Gilt Groupe finally found a buyer for its luxury travel website in April, when the company announced that it had sold off the property to TripAdvisor for a rumored $30 million to $50 million, way less than Gilt's reported original asking price of $100 million.
The sale couldn't have come at a better time for the fledgling travel website. A "staffer mutiny" against former CEO Drew Patterson saw numerous people leave the company. Also, the lack of immediate suitors for Jetsetter highlighted pressure on Gilt Groupe from its investors to focus on its core retail businesses.
In the end, Gilt didn't get exactly what it wanted, but at least they unloaded an unwanted property. And Jetsetter got a fresh start, even if they're still shacked up in Gilt's headquarters.
(Sources tell Betabeat that Jetsetter will finally exit Gilt's offices sometime next year.)
Yahoo Takes a Tumblr
What does $1.1 billion buy you? A lot of angry teens, apparently. (Also, a free blogging platform.)
In arguably the biggest purchase of the New York tech scene this year, Yahoo's acquisition of David Karp's diabolical creation made it clear that Tumblr's new stepmom, Yahoo CEO Marissa Mayer, wanted to make an impression that her company is hip and cool with the kids.
"We promise not to screw it up," she wrote in (where else) Yahoo's new Tumblr site in May. She added that, for better or for worse, its team, product road map and "wit and irreverence" will remain intact.
Of course, with new parents come new rules. Users were outraged that Tumblr started covertly trying to hide the blog's seedy network of porn blogs, although Mr. Karp denied that it was tampering with explicit material that was searchable to users.
Tumblr saw a stream of old-timers—if you can call them that—exit the company, including "media evangelist" Mark Coatney and Editorial Director Christopher Price. It also axed its in-house editorial unit, Storyboard, prior to the purchase.
Now that the confetti is cleaned up, it's down to business for Yahoo and Tumblr, as they try to entice advertisers to invest in ads and actually turn a profit.
Twitter Soars
Jack Dorsey, that liar. After acting totally coy for months about whether Twitter was ever going to go public, it finally did so. In September, the San Francisco-based company quietly tweeted out the news that the highly anticipated IPO was going to happen.
Twitter's patience to go public paid off. In its S-1 filing, it announced that it carries 500 million tweets per day, saw a 44 percent explosion in year-to-year user growth and the company was netting some revenue. (Though since it's a tech company, it would be silly to think it's profitable.)
In addition to Mr. Dorsey, Twitter execs Biz Stone, Dick Costolo and Evan Williams all made their way from sunny California to the New York Stock Exchange to ring the bell on its stock's—TWTR, naturally—opening day. It opened at $26 per share and is currently trading at double that.
Now that the whole stock market thing is figured out, 2014 will no doubt be a banner year for the company. But questions remain: How can it market the service to people who might be afraid of its mesmerizing stream of sentences? What's it going to do with its video service, Vine? And can it nail down an ad model to deliver a knockout blow to Facebook?
We'll be checking Twitter to find out.