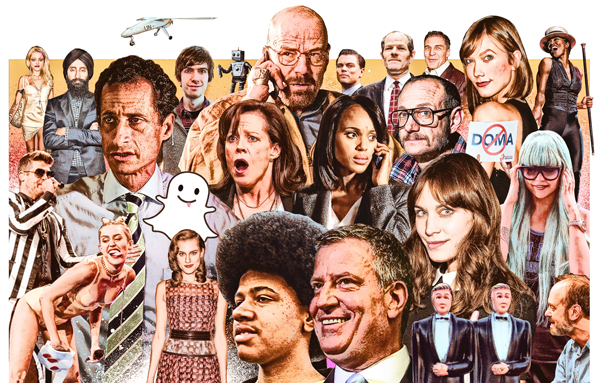 The time is upon us for that most hoary of all media rituals—the year-end list. But this time, the hateful annual chore is a little less distasteful. December 2013 marks not just the end of a year. It's the end of an era.
Keen observers of the Giuliani and Bloomberg administrations can point to a thousand differences between the two. Mike didn't have a taste for operatic drama, and Rudy never would have banned smoking so aggressively or cared about (known about?) trans-fats and bike lanes. But those are variations on style and emphasis. When it came to core beliefs—that New York City should be run like a business, with public safety and economic development as its two guiding lights—these past 20 years represent the longest continuous political philosophy in the city's history.
That ends now.
New York City welcomes a new mayor who differs not just in style (wake up, sleepyhead!) but in substance, ideology, background, experience and reflex. We will also have a new City Council speaker, public advocate, comptroller and borough president. All to greet, and manage, a city that has been transformed in every measurable way.
Neighborhoods left for dead are thriving, leading some to visit for the first time and forcing others from their ancestral homelands. Parks blossom in spaces long abandoned by industry even as new industries sprout underneath the cranes that seem barely to have paused even when the city's economic engine virtually collapsed. Sports teams play in a half-dozen new professional arenas, including a glorious showcase in a borough that hadn't been home to a major-league pro team since the '50s.
Meanwhile, the arts community, transformed by rent hikes as much as any other city industry, continues to set the nation's agenda in virtually every category, with paintings selling for record highs, museums and galleries packed to capacity and music, theater, dance and books bursting forth to set the nation's cultural agenda. Even movies, as the street closings on every other goddamn block will verify, have seen an eastward pull.
We've got our problems. But it is the opinion of this newspaper that there is no better city and no better time to live here. New York remains the most vibrant, exciting, creative, opportunity-rich place on Earth. That's the lens we'll use as we consider 2013—the serious and the silly, culture high and low, sex and sexism, fashion, parties, fabulousness and hot messes. Here's what worked and what didn't.