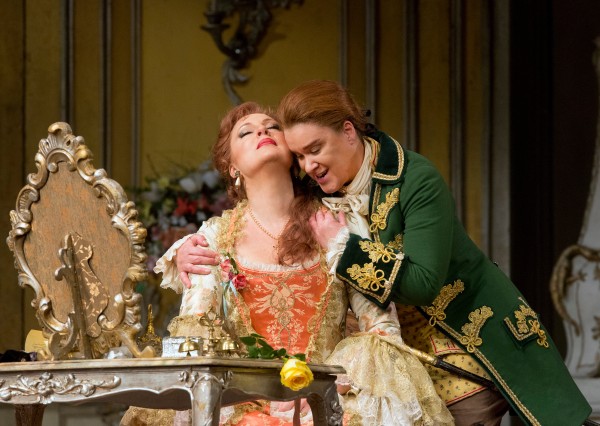 Rudolf Bing, general manager of the Met from 1950 to 1972, once observed that his opera house was "similar to a museum. My function is to present old masterpieces in modern frames."
Mr. Bing's curatorial approach was, if not exactly avant-garde in the 1950s, a step forward from the haphazard way opera had been produced before him, at the Met and elsewhere. His style of "framing" featured real theater directors and designers, serious musical preparation and stable casting across a season's run of a given opera.
The virtues of Mr. Bing's method were clearly apparent in a production he commissioned of Strauss' Der Rosenkavalier directed by Nathaniel Merrill and designed by Robert O'Hearn. At the time of its 1969 debut, this staging, conventional but not blindly traditional, must have seemed a fine frame indeed—tastefully lavish and solidly fanciful.
But sadly, even the finest frames eventually go out of style. Finally, battered and worn, they can even end up distracting from the beauty of the piece they are meant to enhance. So it is with that once-handsome Rosenkavalier production, which is now, 45 seasons later, still propped up on the Met stage to surround Strauss' music. Oh, there's a fresh coat of paint on the flats, and the principal characters' costumes are newly sewn and bedazzled, but whatever "enhancement" this production gave to the opera has long since evaporated.
Written in 1911, Der Rosenkavalier blends sentimental comedy and farce, with a hyper-sophisticated, talky libretto by Hugo von Hoffmansthal set to fragrant post-romantic music by Strauss. It's alternately (and sometimes simultaneously) ironic and heartfelt, climaxing in a surging, tear-jerking trio in which an aging noblewoman graciously breaks off her relationship with her much younger lover so he may pursue his true love.
But whatever emotion the Met's production evokes, it evokes it in spite of itself. The elaborate sets are ponderous yet insubstantial, more akin to museum dioramas than real rooms in which people might live and love. And the costumes are fussy, the stuff of trophy wives at charity masquerade balls.
There is no acting here, only posturing—but it's not the singers' fault. They have been given no more than traffic direction, and, perhaps in self-defense, some of the performers seem to have brought their own shtick along with them from productions in Vienna, Paris or San Francisco, the way old-time divas used to travel with trunks of their own costumes and wigs. You don't absolutely need a great or even fine production for opera, even so tricky an opera as Rosenkavalier, to succeed. Truly great singers work a kind of magic that makes tatty sets, clumsy stage movement and even their own physical unsuitability for their roles disappear from view. Unfortunately, the cast the Met fielded was incapable of that kind of sorcery.
Mezzo Alice Coote, who played the impetuous 17-year-old nobleman Octavian, is a solid and conscientious artist. But in a role that requires glamor—in some combination of voice, looks and personality—she sang the notes well but, in her rococo male drag, looked like she might play a rousing game of rugby.
She stood at least six inches shorter than statuesque Martina Serafin, who played the Marschallin, Octavian's overripe mistress. Ms. Serafin's role lay mostly in her rich, warm middle voice, a pleasure to hear in purely sensuous terms, even while her singing tended toward the generic: soft and shimmery in reflective moments, then big if a bit strident in the climaxes. It's all excellent raw material for a Marschalllin, but the role for the most part consists of a woman sitting around talking about her feelings, so it's disappointing that Ms. Serafin rarely mustered an affect more specific than "sort of sad, but dealing with it."
If Erin Morley's performance as Octavian's true love, Sophie, felt similarly generalized, that's understandable, as she jumped into the show after the dress rehearsal to replace another soprano. This too is an attractive and well-schooled voice, and if Ms. Morley's acting was mostly improvised on the spot, she at least wasn't coy and cutesy. 
In the lead comic role of the boorish Baron Ochs, bass Peter Rose won not a single laugh, though he sang the long and wide-ranging part with meticulous accuracy. The four-hour opera's prodigious supporting cast of servants, hangers-on, intriguers—even a tenor who drops by the Marschallin's bedroom to serenade her over breakfast—was a credit to the Met's rehearsal department.
And that cast was put through its paces by Edward Gardner, whose quicksilver conducting had the precision of an HDR photograph and, unfortunately, about the same level of warmth. I didn't care for his way with the score, but I'll concede that he had a coherent point of view about this opera, which is more than can be said for the Met's staff stage director, Robin Guarino.
The situation is considerably better with Eugene Onegin, which opened the Met season in a dowdy, underdone staging by Fiona Shaw but now, with a different set of principal singers, has turned crisp and resonant. Not much has changed in the physical production—the whole first act still transpires in a potting shed—but the performances of newcomers to the cast, Peter Mattei (Onegin) and Marina Poplavskaya (Tatiana), crackle with dramatic angst.
Mr. Mattei underplays the pride and vanity most baritones emphasize in the title role, instead creating a monster of a more insidious sort: the debonair sociopath. In the "sermon" scene, when Onegin scolds Tatiana for sending him a gushing love letter, Shaw's production inserts a kiss just before they part. Performed by the opening night cast, the unexpected smooch was jarring and incongruous. But with Mr. Mattei, it exemplifies Onegin's utter lack of empathy: It was just something he felt like doing, never mind the consequences.
As for Ms. Poplavskaya, she reaffirmed her status as one of the world's great operatic actors, transforming Tatiana's shy dreaminess into a nonstop anxiety attack. The earlier cast's Tatiana, Anna Netrebko, achieved catharsis at the end of the scene in which Tatiana writes the letter, but Ms. Poplavskaya enjoyed only a few seconds of panting respite before resuming her panic, frozen in place.
The couple was even more strongly contrasted vocally. Mr. Mattei's velvety baritone and flawless legato made audible Tatiana's fantasy of him as the perfect lover. Ms. Poplavskaya's singing was hardly conventionally beautiful, and in the last scene, it turned raw and downright ugly. But every phrase sounded wrenched from her soul, cries of agony too human to be enjoyed as mere entertainment.
Also joining the cast was the popular tenor Rolando Villazón, returning to the Met in New York for the first time since he crashed and burned in Lucia di Lammermoor five seasons ago. Even in the relatively undemanding role of the doomed poet Lensky, his tenor has dwindled to a husk; he sounded like a pop singer without a microphone. Still, the warm, fuzzy quality of his voice and his intelligent musicianship remain pristine.
On the other hand, Stefan Kocán's bass boomed, incongruously virile and vibrant as Tatiana's supposed elderly husband, Prince Gremin, but at least his looks—handsome and sensual—corresponded to the voice. For once, Tatiana's decision to return to her (wealthy, sexy) husband made perfect sense, which ironically made her agony at losing the blubbering Onegin, "the love of her life," all the more poignant.
Eugene Onegin is, in part, about how life is all trade-offs, a truism illustrated by the contrast between the reliable but pedestrian conducting of Alexander Vedernikov and the unlistenable genius of Valery Gergiev earlier in the fall. Genius is nice, but when you're in the business of building frames, you could do a lot worse than "reliable."