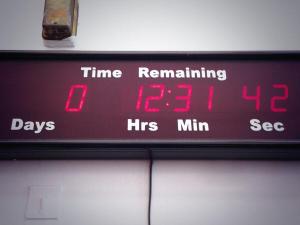 Outgoing Schools Chancellor Dennis Walcott began his final day on the job this morning with an early stop at City Hall, where he took one last look at the mayor's famous countdown clock, which today notes zero days left on his administration's watch.
"I went down early this morning, I looked at the countdown clock and saw a zero there. And so that was memorable," Mr. Walcott told reporters this morning after leaving the mayor's final event–an interfaith breakfast in Midtown.
At 4:45 p.m today, Mr. Walcott and the mayor's other staffers will gather at City Hall to bid farewell to the man who has transformed the way the city has been run and its reputation around the world. And throughout the day, many reflected on what the past 12 years have meant.
"I mean, it's really mixed emotions," said Mr. Walcott, who was one of the mayor's first appointees 12 years ago, and described the mood as bittersweet. "We have worked very hard on behalf of our city, and for me, especially, our students, for the last 12 years. It's been very satisfying. I think we're leaving it way better than where we found it and we're gonna turn over a solid foundation for the mayor to come in and do his job," he said.
"There's no job like this job. It's the greatest job for public service ever in trying to serve 1.1 million students," he added. "And I'm blessed to have this job and I'm blessed to work for a mayor like this mayor."
Mr. Walcott said he'd spoken to incoming chancellor, Carmen Fariña, who visited the Department of Education's headquarters yesterday, and is hopeful for the future under her watch.
"We walked around, talked about her stepping in. And I'm looking forward to what Carmen will do," he said, dismissing criticism from the incoming administration. "I never pay attention to rhetoric. I always look at how one governs. And so we're looking forward to the next administration governing and I know Carmen is deeply committed to our students. And I expect great things in the Department of Education," he said.
Police Commissioner Ray Kelly, who is not known to be particular introspective, was less emotional, but equally as complimentary of the mayor when asked whether he thought he'd been treated fairly in recent months. (Mr. Kelly was the subject of many attacks during Mayor-elect Bill de Blasio's campaign, but was praised by many at the breakfast–posing for pictures with attendees for nearly an hour after–despite controversial stop-and-frisk and Muslim surveillance programs.)
"I'm not complaining. This is a culmination of 12 years for the mayor in the administration, myself, the police department, and I think they've been successful with the city," he said, pointing back to when Mr. Bloomberg first took office.
"You have to recall where we were when the administration started, three-and-half months after 9/11. There was an awful lot of despair, a lot of gloom and doom at that time. And the mayor just did a phenomenal job rallying the city," he said. "And I don't think anybody could have reasonably expected that the city would be where it is today 12 years ago. We haven't had a successful terrorist attack; crime is down to record lows. I think this is a manifestation of relations that exist between the department and the many, many diverse communities of the city. So all and all, I feel very good about the job that's been done by the administration, certainly by the police department."
Is there anything he'd miss least about the job? "Not really. You know, some things that less fun than others, lets' put it that way. But it comes with the territory," he said simply.
Mr. Bloomberg's sister, Marjorie Tiven, who serves as commissioner of the city's Mayor's Office for International Affairs, also reflected on her brother's administration fondly.
"It's been a great response and I think he's done a great job," she told Politicker. "And I think the mayor's office has been wonderful … I mean, it's been 12 great years."