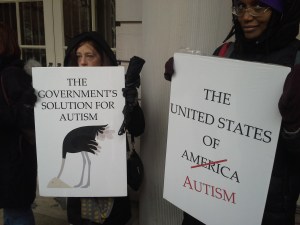 A ragtag group of parents and anti-vaccination advocates rallied at City Hall today to protest a last-minute push by the Bloomberg administration to make annual flu vaccinations mandatory for New York City children as young as six months of age–after a much larger rally was canceled. 
As wet snow fell outside, a few protesters clustered beneath an overhang and wielded signs to greet members of the media. Inclement weather officially postponed the event and organizers hope to have hundreds of people at City Hall in the coming weeks. Nonetheless, a small group gathered to voice their opposition to the policy, which would apply to children aged six months to five years enrolled in day care and pre-school programs.)
Frustration ran high among the handful of protesters, who called on the Bloomberg administration to reconsider. Many argued there could be harmful side effects from flu vaccinations, stopping short of controversial claims that the vaccines contribute to autism in children.
"If that goes into effect and all schoolchildren have to have these shots in order to enter school, there is a guarantee that some of the children will be harmed," said Zoey O'Toole, a Kensington, Brooklyn resident who belongs to a community of online bloggers known as the Thinking Mom's Revolution. "Every shot carries a risk. Every shot creates some casualties."
While she's been open to Mr. Bloomberg's health policies in the past, Ms. O'Toole said the vaccination proposal worried her immensely. 
"I think that so far his regulations have been a bit control-freaky but have not harmed anyone. Cutting down on large sodas, that doesn't harm anyone; that probably helps and I think he probably thinks he's helping with this," she said. "I actually think he's going to cause harm."
Marlene Ebanks, a parent of a 7-year-old autistic boy, claimed she would be forced to home school her child if Mr. Bloomberg's policy goes into effect. (The city's proposed rules apply only to children up to age five.)
"Based on his reaction to half of a baby vaccine when he was a toddler, it will just wipe him out," she said. "I would run the risk of him getting very, very ill or I would end up having to home school him. For a child with autism, especially on the high functioning end with social impairment, that socialization is very important to his development and I'd have to find other ways to get it because he wouldn't be able to attend school."
An Orthodox Jewish rabbi, William Handler, took the claims even further, denouncing a wide range of Mr. Bloomberg's health department policies, including the regulation of a circumcision ritual that became a hot button issue of the mayoral race. He handed out a flier to reporters that charged Mr. Bloomberg's real agenda was "population control" of minorities because "planned parenthood abortion clinics are mainly located in Black and Hispanic communities."
"Here, with vaccination, there is documented evidence, there's a vaccine court, there's a vaccination adverse events reporting system … The government has dispensed billions of dollars for vaccine damage, it's well known," Mr. Handler claimed. "It's well known that after a vaccination, your immune system drops dead for two weeks and you're liable to get any kind of sickness because your immune system is not operating."
The city's Health Department has argued the vaccine protects children and is essential for preventing the spread of the flu virus.
"Young children have a high risk of developing severe complications from influenza. One-third of children under five in New York City do not receive an annual influenza vaccination, even though the vaccine safely and effectively protects them against influenza illness," the Health Department said in a statement yesterday. "This mandate will help protect the health of young children, while reducing the spread of influenza in New York City."
And an advocacy group, Families Fighting Flu, rejected the charges as well. 
"Requiring annual influenza vaccination of all children attending child care services and school-based programs under the Department of Health and Mental Hygiene's jurisdiction will decrease the percentage of unvaccinated children, saving this most vulnerable population from illness, hospitalizations, and death," the group said in a statement. 
The Board of Health is planning to vote on the measure Wednesday.
Correction (5:52 p.m.): This post has been updated to reflect the fact that the city's proposed mandate would apply only to children aged 6 months to 5 years.